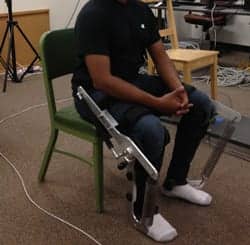 To provide patients a "bionic pick-up" without undergoing surgery, University of Cincinnati (UC) researchers have designed and built a spring-assisted leg exoskeleton engineered to help patients with limited movement to sit and stand.
A UC news release notes that Gaurav Mukherjee, UC master's student in mechanical engineering in UC's College of Engineering and Applied Science (CEAS), worked with a senior student design team in mechanical engineering, and Grant Schaffner, assistant professor, department of Aerospace Engineering and Engineering Mechanics, to develop the device. Mukherjee recently presented the research at the International Human-Centered Robotics Symposium.
The release also states that additional research partnerships with Shikha Chaganti, master's student in computer science, and her advisor, Anca Ralescu, professor of computer science, seek to assess how a brain-computer interface can interpret how to operate the exoskeleton according to the user's intent. In the release, Mukherjee states that a movement analysis study has been underway in the lab. The study is using markers on the body to build a virtual model.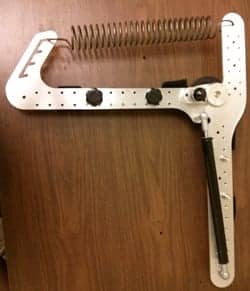 According to researchers, the experiment's results can help them design the exoskeleton to supplement the capability of the user. The researchers also report that they are investigating muscle activity in an effort to produce a suit designed to work in cooperation with the natural movement of the patient/user, rather than forcing predetermined motion. The technology may benefit the nation's aging Baby Boomer population, Mukherjee says.
Ultimately, the release states, researchers hope the interdisciplinary work will hold promise for geriatric patients, patients impacted by stroke, and paraplegics seeking to gain independent movement. Additional research will focus on the development of the exoskeleton; constructing supports to allow movement of ankles and hips, and improved fluidity in movement, the university says.
[Source: University of Cincinnati]