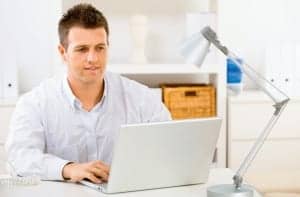 If online education is a new experience, asking a few important questions before jumping into the virtual continuing education world can help to ensure positive learning outcomes.
Technology plays a vital role in today's continuing education delivery methods. Online options seek to meet the growing need for monetary savings by providing both time and cost benefits to the participants. Online choices include work-at-your-own-pace seminars and webinars delivered live online, often providing interaction with participants. Other programs are pre-recorded, and allow the potential attendee to choose the method of delivery that meets personal learning preferences. In-depth advanced degree credit course offerings are also available with student interaction, streaming video, and other virtual interaction. Today's technology plays a key role in facilitating these varied learning experiences, adding value in time away from the health care facility and enriching one's knowledge for better patient care.
THE RIGHT QUESTIONS ARE KEY TO SUCCESS
If online education is a new experience, then asking a few important questions before jumping into the virtual continuing education world can help ensure positive learning outcomes. Ask yourself a few questions. Do you know your online learning style? What are the technological requirements? How will you measure success? By addressing these questions prior to registering for a class and developing a Professional Development Plan, you are more likely to be successful and satisfied with your learning experience.
How do you determine your online learning style, and whether online learning is right for you? There are many resources available online to help individuals determine if online learning is a proper fit. Search the Internet for helpful checklists and tools to help you determine the online fit for you; they can be easily found by searching "online learning." There are several complimentary online self-assessment tools that can help you evaluate your compatibility. Many online providers also make these tools available to potential students. Also consider the following characteristics of successful online learners:
Good time management skills.
Good reading comprehension skills.
Good written communication skills.
Motivated self-starter.
Once you have determined that the virtual realm is a good fit for you, you need to consider your study surroundings and the time of day that works for you to pursue your education. Do you have a setting that promotes a positive learning environment? All of us have experienced interruptions and the frustration that ensues. Keep this in mind when you are determining a place/space to pursue online education. Your opportune time to study may be during naptime for a little one, the end of the day when colleagues have left the office, or a welcome quiet break mid-day—all have potential to be a time you can set aside for learning. Equally important is to consider a location that discourages interruptions, which may be as easy as being able to close a door. Putting thought into this before you begin will help get you started on the right foot.
CHOOSING YOUR PATH ONLINE
At this point, you have assessed your potential as an online learner and prepared the proper learning environment; now it is time to choose an online seminar, webinar, or advanced degree program that meets and fulfills your goals toward your professional development plan. Begin this process by checking out the educational provider. Is the continuing education provider authorized by a recognized authority? An example of such an entity is the International Association for Continuing Education and Training (IACET):
IACET's mission is to promote and enhance quality in continuing education and training (CE/T) through research, education and the development and continuous improvement of criteria, principles and standards. Our history includes development of the original Continuing Education Unit (CEU) and creation and maintenance of the ANSI/IACET Standard for Continuing Education and Training.
Using the ANSI/IACET Standard, in-depth research on the learning process and a nationwide network of experts, IACET helps companies, associations, government agencies and other CE/T providers develop a framework for continuous improvement and deliver a superior learning experience.1
To learn more about IACET, visit their Web site at www.IACET.org.
Is the degree program accredited? The Distance Education and Training Council (DETC) is an online degree program accrediting agency:
The DETC is a voluntary, non-governmental, educational organization that operates a nationally recognized accrediting association, the DETC Accrediting Commission.
The DETC Accrediting Commission defines, maintains, and promotes educational excellence in distance education institutions. The Commission is dedicated to fostering quality assurance, protection of the rights of the students and institutional self-improvement through voluntary accreditation via peer evaluation. DETC accreditation aims to instill public confidence in DETC institutions' missions, goals, performances, and resources through rigorous application and peer-developed accreditation standards.2
To learn more about DETC, visit their Web site at www.DETC.org. Research your provider to be sure that you are met with high standards in continuing education and degree granting abilities.
THOSE WHO CAN, TEACH
When setting your professional development plan, you may want to consider teaching those pursuing a career in your profession. A Doctor of Education degree may be an option for you to consider. By combining your hands-on and professional experience with a degree in education, you could help give back to the profession by educating those entering the health care field and providing your knowledge to advance the profession.
Maybe your goal is to learn a new skill or obtain evidence-based research information to solidify patient care practices. A seminar/Webinar might be what you are interested in. It could be a series or an individual offering you seek that explores a specified topic. The choices are endless, and a well-prepared professional development plan can help you stay on-target to meet your goals.
ASSESSING TECHNOLOGICAL REQUIREMENTS
Once you have determined your online and educational goals, you should take the time to consider the technological requirements to participate. This information should be supplied to you by the educational provider on or before registering. At such time, you, the consumer, should review the list of technological requirements for the specific class you have selected to attend. Below is an example of such requirements, and if you have questions regarding your equipment and compatibility, you should contact the continuing education provider to discuss any questions prior to beginning your class.
Windows User Example
Intel Core (2 GB of RAM recommended)
JavaScript and Cookies enabled
Microsoft Internet Explorer (recommended)
Java 6.0 or above
Mac User Example
Intel processor (512 MB of RAM or more recommended)
JavaScript and Cookies enabled
Plug-ins enabled
Java 6.0 or above
In addition to proper computer settings and requirements, it is important to have a dependable high speed Internet connection. A slow Internet connection can single-handedly bring your progress to a screeching halt. This is not a problem you want to discover after you have already begun a program, so be sure your connection is dependable.
In an effort to bring the online experience full circle, consider how you will measure your online success and how you will evaluate your overall satisfaction with the delivery method and learning outcomes in combination with your professional development plan. At the completion of the learning event, review the learning outcomes set forth by the provider. Do you feel that you have achieved the objectives and can demonstrate the skills and knowledge that you expected to receive? Did the overall experience meet with your satisfaction? The educational provider also should seek this information from participants to evaluate programs and offerings in a way that will help them provide the best experience possible for their attendees.
There is a lot to think about when participating in online offerings and receiving the best overall education experience possible. Be a proactive consumer, do your research, prepare your learning environment, and know your goals. Above all, enjoy your health care profession and strive to provide patients with the best care possible.
---
Lori Hankins is the director of continuing professional education at the University of St. Augustine for Health Sciences, a nationally accredited institution offering graduate education for physical therapists, occupational therapists, and orthopedic physician assistants. For more information, contact or visit www.usa.edu.
References
IACET.org; n.d.; Web. 8/4/12. www.iacet.org/about/who-we-are
DETC.org; n.d.; Web. 8/4/12. www.detc.org/about.html