Beverly Hospital will host reportedly its first Amputation Prevention Summit on Saturday, September 29, on the hospital campus in Montebello, Calif.
The summit will highlight the urgent nature of the diabetes epidemic as the leading cause of non-traumatic, lower extremity amputations, and will discuss ways to reduce these amputations.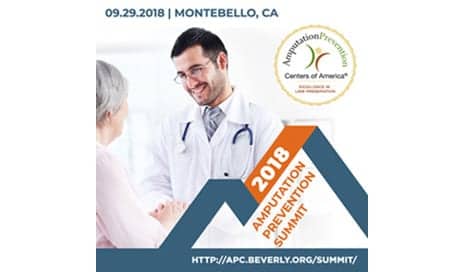 Amputation Prevention Centers of America Medical Director Lee Rogers, DPM, will lead the summit.
Featured speakers include Desmond Bell, DPM, founder and president of Save a Leg, Save a Life Foundation; Charles Ananian, DPM, and Babak Dadvand, MD, medical directors for Beverly Hospital Amputation Prevention, Wound Care and Hyperbaric Medicine; as well as speakers across multiple disciplines, such as plastic surgery, endocrinology, epidemiology, interventional radiology and nursing management.
Continuing education credits will be available for those who qualify.
For more information or to register for the summit, visit The Amputation Prevention Center at Beverly Hospital.
[Source(s): The Amputation Prevention Center at Beverly Hospital, PRWeb]