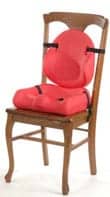 To accommodate pediatric users with mild to moderate sitting support needs, TherAdapt Products Inc, headquartered in Ludington, Mich, markets soft-touch cushion liners comprised of a soft-to-touch material. The liners are latex-free and anti-microbial. TherAdapt reports that the Special Tomato Soft-Touch Liners are intended as a less expensive alternative to other seating systems and promote ease of transport.
The contoured seat and back cushions are designed to promote good posture while sitting in a standard seating system for children with mild to moderate positioning needs. The company notes that the seat and back cushions can be used separately or together. The Soft-Touch Liners can also reportedly be attached to most seating systems, including strollers, highchairs, dining room chairs, restaurant chairs, and classroom chairs.
For more information, visit www.theradapt.com.
[Source: TherAdapt Products Inc]