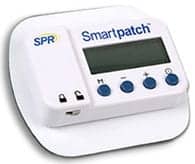 The US Food and Drug Administration (FDA) recently approved a new study intended to assess a minimally invasive neurostim device made available through SPR Therapeutics. The device, the SMARTPATCH Peripheral Nerve Stimulation (PNS) System, is engineered to treat post-stroke shoulder pain, according to SPR Therapeutics.
In the study, slated to begin by year-end, researchers will test the safety and efficacy of the device in 60 patients. SPR Therapeutics adds that the device has shown promise in earlier studies, providing significant pain relief and improvement in quality of life.
A recent news release notes that if similar results are observed in the upcoming study, the SMARTPATCH PNS System could potentially serve as a non-narcotic option for patients who may have limited options for chronic pain relief. The device is designed to "electronically exercise the muscles," in order to facilitate a deep massaging feeling for a few hours a day, up to 30 days. The device also features disposable batteries contained in the patch to control "dosing" once it is applied to the skin.
In prior studies, SPR Therapeutics adds, patients have reported continued pain relief past 30 days of use.
For more information, visit www.sprtherapeutics.com.
[Source: SPR Therapeutics]