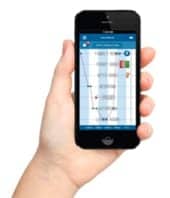 A smartphone-enabled service engineered to allow older adults to age in place transmits key information about their activity securely to family members' or a caregiver's mobile device or computer.
The SafeinHome service uses small sensors in the older adult's home to connect wirelessly to a compact CommHub that features its own built-in cellular connection. The CommHub then reportedly sends information and alerts based upon the older adult's movement, activity, or routines to a smartphone or computer. Family members or caregivers can set up specific conditions that, if met, will issue an alert. These conditions include inactivity, key leave/return, wake up, and emergency alert.
SafeinHome is designed to be an economic alternate to outside older adult care, the company notes.
For more information, visit www.safeinhome.com
[Photo Credit: PR Newswire]
[Source: SafeinHome]