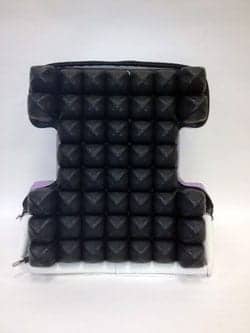 ROHO Inc and Freedom Designs Inc recently announced a formalized arrangement that allows assistive technology professionals (ATPs) and other certified professionals to customize and order Freedom Designs back support products that integrate ROHO air inserts, composed of neuroprene and featuring ROHO DRY FLOTATION Technology.
A news release from the companies notes that in the past, ATPs had to accept what Freedom Designs stocked as standard air cell inserts in the ROHO line, or purchase from both Freedom Designs and ROHO separately, then combine the products when they took delivery. The companies add that the program's announcement is intended as a follow-up to a product unveiling at the 2013 NSM Seating Symposium, which was held May 17 to 21 in Scottsdale, Ariz.
The program is designed to offer a variety of features and benefits to ATPs, clinicians, and consumers. These include a single purchase order and single invoice from Freedom Designs and a ready-to-go option for ATPs and clinicians to consider when conducting a seating assessment. The product also arrives preassembled and fitted, ready for delivery. The companies add that the program also offers the potential to improve seating tolerance, postural support, and provide comfort to the user.
Tom Borcherding, president, ROHO, states, "We're pleased to be part of one of the rare instances when two industry innovators are able to combine skill sets to produce a new and innovative solutions that will benefit many individuals."
[Source(s): The ROHO Group, Freedom Designs]