Joint pain affects not just mobility but also has a significant emotional impact among middle-aged women—affecting romantic and social relationships, ability to pursue hobbies, and mood—suggests a survey conducted by DePuy Synthes.
The survey of more than 500 women ages 45 to 65 included those who have had joint replacement surgery and those planning to have joint replacement surgery.
According to the survey, the results reveal:
90% of respondents agree that they are not able to live life to the fullest because of their joint pain,
Nine out of 10 respondents say their joint pain negatively impacts their mood,
Two-thirds of the respondents have avoided a social situation because of joint pain,
More than half of respondents said their joint pain makes it personally challenging to feel like a part of the family,
89% of respondents feel like they can participate in their life again after joint replacement surgery,
Two out of three respondents who had joint replacement surgery say their relationship with their spouse or partner improved, with 60% of respondents reporting improved intimacy.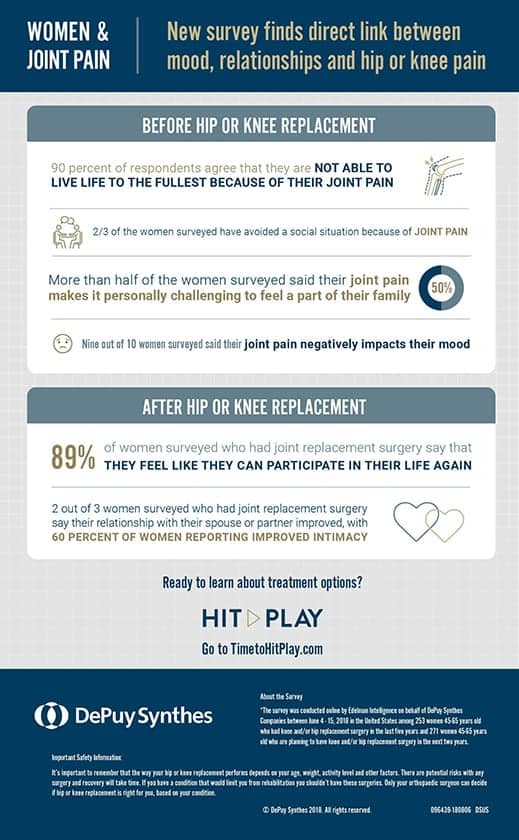 "In my practice, I talk daily with women experiencing knee and hip pain who feel like they are living their life on the sidelines," says Anna Kulidjian, MD, MSC, FRCSC, Associate Clinical Professor, Joint Reconstruction and Limb Preservation, Program Director Orthopaedic Oncology at Scripps Clinic-Green Hospital.
"The women surveyed are in the prime of their life yet have a heavy emotional cloud over them because they aren't living the life they want, due to their hip and knee pain," adds Kulidjian, a consultant to DePuy Synthes Joint Reconstruction, according to a media release from DePuy Synthes.
"We conducted this survey to explore how joint pain can impact day-to-day life beyond mobility and the shift in outlook once the pain was addressed," states John Wright, MD, Integrated Leader Medical, Clinical and Pre-Clinical Affairs at DePuy Synthes and former Clinical Director of Orthopedic Surgery at Brigham and Women's Hospital.
"Most women surveyed agreed that addressing their joint pain has helped improve their mood and strengthened their relationships with family and friends. This underscores the importance of women recognizing and acting on their joint pain earlier to avoid compromising their overall quality of life," Wright continues.
DePuy Synthes commissioned this survey as part of its ongoing patient education campaign, per the release.
[Source(s): DePuy Synthes, PR Newswire]