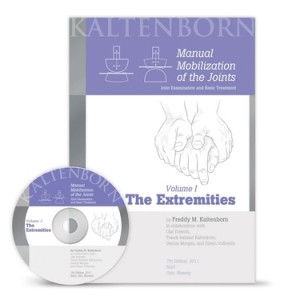 Manual Mobilization of the Joints: The Extremities is a reference work that is designed to help clinicians understand the nuts and bolts of joint mobilization, recently updated as a new edition that includes accompanying video assets.
Minneapolis-based OPTP, from whom the book is available, stated in a news release that Manual Mobilization of the Joints: The Extremities, authored by Freddy Kaltenborn, was originally released 40 years ago. This new release marks the book's eighth edition, and offers  an introduction to manual extremity joint evaluation and mobilization techniques with an emphasis on the application of biomechanical principles.
Intended for student practitioners, The Extremities is designed to fulfill the basic manual therapy requirement of physical therapy curricula; it is also said to be essential reading for experienced practitioners who did not receive Kaltenborn-Evjenth OMT training during their professional education.
The OPTP news release notes that the tests and treatments demonstrated in Manual Mobilization of the Joints are described using precise language and reinforced by color photographs with clear graphics and a companion DVD with over 150 video clips. Basic and alternate grips, as well as the use of wedges and mobilization straps, are also detailed.
Among the many updates in this 8th edition is an expanded discussion of the Convex-Concave Rule to clarify its use and misuse. Also new in this addition is an introduction to the theory and application of manipulative thrust techniques. Kaltenborn refined these thrust techniques over decades of practice to be safe in the hands of student practitioners.
Learn more about the book at the OPTP website.
[Source: OPTP]