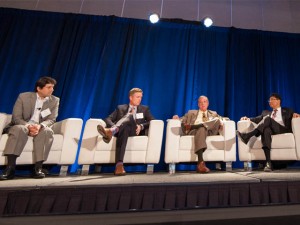 Those who use and advocate for advanced physical rehabilitation technologies got a boost recently when a powerhouse panel of rehab industry experts met to discuss how to demonstrate the value of emerging neurorehabilitation technologies.
The Parker Human Motion Summit recently hosted by San Diego-based Parker Hannifin Corporation, gathered experts from the field of physical medicine and rehabilitation in a forum to discuss how to demonstrate the value of recent and emerging neurorehabilitation technologies in various clinical and personal settings.
A media release from Parker Hannifin characterizes this as the first of annual Parker Human Motion Summits, with subsequent events focused around a specific issue in the industry. In three separate panels, leading physicians and hospital and health insurance executives reflected on important aspects regarding the evidence required for the integration of advanced technology in in-patient rehabilitation facilities, outpatient clinics, and even in the patient's home.
"We feel it is critical to foster discussions among physicians, administrators, and payor policymakers to understand the various perspectives regarding clinical evidence, health economics, and the value of advanced technology," said Achilleas Dorotheou, VP and head of human motion at Parker Hannifin Corporation. "We want to be an agent for advancing the field of human motion technology forward, and we are very pleased with the discussions at this summit and we want to continue to offer a forum for these important stakeholders."
A panel format allowed the audience to participate in candid Q&A sessions with experts. The consensus among the attendees reportedly was that recent and emerging innovations have the potential to offer significant value. However, there is still work to be done to quantify and demonstrate the value delivered. Parker Hannifin reports that as a result of these insights, many of the participants have begun to explore collaborative pilots and initiatives to further examine these areas. 
"I believe this summit provided critical insights about the acquisition decision and use of advanced technology in various clinical settings. It became apparent how important it is to review and demonstrate the value of innovative rehabilitation technologies from various perspectives," said Dr Gary Ulicny, CEO of Shepherd Center in Atlanta.
Parker reports that it is currently developing Indego—a powered lower limb orthosis, also known as exoskeleton—and is targeting commercial launch.
[Source: Parker Hannifin]