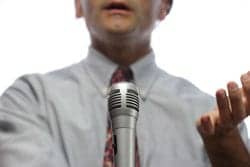 As a response to the potential that "holes" in insurance coverage that may leave victims of the Boston terror attack facing major costs for their initial prostheses and replacement devices needed in the future, the American Orthotic & Prosthetic Association (AOPA) will hold a news conference at 1:30 pm EDT April 30 to announce the formation of the "Coalition to Walk & Run Again."
An AOPA News release notes that the industry will unveil its plan to ensure compassionate access to artificial limbs for uninsured and underinsured amputee victims of the Boston Marathon terror attack. The release reports that the announcement of the Coalition will be accompanied by a warning to all Americans about what it designates as the "little-understood gaps and severe limitations" in many health insurance plans for orthotic and prosthetic devices.
A number of speakers are slated for the news conference, including Kendra Calhoun, president, Amputee Coalition, a victim of the Boston terror attack, Charles Dankmeyer, AOPA president, bilateral, below-the-knee amputee, and founder of Dankmeyer, Inc, a Linthicum, Md-based orthotics and prosthetics firm, and Tom Fise, executive director, AOPA.
To participate in the live conference, call (800) 860-2442 and request the "aid for Boston terror attack victims" news event.
A streaming audio replay of the news event will be available on the AOPA website by 5 pm EDT.
Source: AOPA