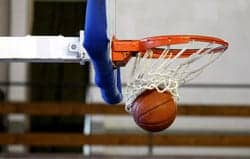 AMP1, a team of stand-up (non-wheelchair) amputee basketball players are slated to play an exhibition game against athletes from north Atlanta's Milton High School. The November 12 event is designed to highlight the possibilities open to individuals who are living with physical challenges. It is slated for 6:00 pm EST and is open to the public. The event will also accept optional donations benefitting the Amputee Adventure Camp.
According to a recent news release from sponsor Freedom Innovations, AMP1 has used high-tech prosthetics from the company to overcome lower limb amputations and compete against able-bodies, non-amputee teams. During their time in Atlanta, the news release notes, the team will also participate in a variety of scrimmages, assembly appearances, and presentations to several areas schools including Chatahoochee High School, Whitlow Elementary, and Milton High.
Freedom Innovation adds that all AMP1 players wear the Renegade prosthetic foot, engineered for highly active amputees and featuring carbon-fiber Z-Shock Technology. The technology is intended to restore and return energy and provide shock absorption. The company also reports that two of the players use its Pilé 2.0 MPC Knee, designed to blend microprocessor and hydraulic technologies to facilitate responsive movements and stability.
Source: Freedom Innovations