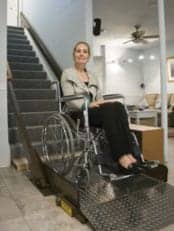 An inclined platform wheelchair lift is available through Butler Mobility Products, Lewisberry, Pa. The company's inclined platform wheelchair lift is designed to allow users to take their wheelchair upstairs and downstairs, ensuring that movement between floors is safe and accessible.
The ADA-compliant product features a standard lifting capacity of 500 pounds, with an optional lifting capacity of 750 pounds. The product also provides key-operated controls as an optional feature to accommodate households that require parental control of the system.
The company notes that a battery backup system will also users to bring the platform up and down stairs as many as 12 to 15 times in the event of a power outage.
For more information, visit www.butlermobility.com.
[Source: Butler Mobility Products]