by Jillian Cacopardo, MPT, ATP/SMS
"The wheelchair is one of the most commonly used assistive devices for enhancing the personal mobility of people with disabilities. An estimated 1% of the world's population need a wheelchair."
– World Health Organization1
Gaylord Specialty Healthcare, a provider of medically complex care and rehabilitative services in Wallingford, Conn., evaluates hundreds of its own patients and individuals from throughout the community each year through its in-house Wheelchair Assessment Services. The goal is to evaluate and fit clients for the appropriate wheelchair in order to maximize their independence and mobility while ensuring their comfort, safety, and health.
Guaranteeing that the client obtains the most appropriate equipment begins with a comprehensive wheelchair assessment performed by a team consisting of the client, the therapist, the durable medical equipment (DME) provider, the medical provider, and the client's caregivers. At times, a nurse and the manufacturer's representative may also be involved to provide vital input when necessary. Without these key players, vital information may be omitted, which can lead to the client not obtaining the most appropriate equipment to meet their medical and functional needs. Omitting this information can also lead to preventable complications such as orthopedic deformity, loss of skin integrity, chronic pain syndromes, depression resulting from ill-fitting equipment, or even equipment abandonment.
Gaylord Specialty Healthcare sets aside 90 minutes to complete the initial assessment, which is broken down into four parts: the interview, mat assessment, equipment simulation, and equipment specification. The information gathered in all stages is vital to equipment recommendations.
I) The Interview: Identifying the Need2
Each piece of information gleaned from the interview determines the direction of the wheelchair assessment. It helps with "painting the picture" for the therapist and provider but also provides the information required by the funding source. Important questions include:
• What medical diagnoses pertain to the need for the wheelchair and associated components?
• What current equipment does the client have — what works and what does not?
• What is the client's functional status? Is the client limited in independence due to improper equipment? Is assistance needed to perform mobility-related activities of daily living?
• What is their home setup, and where do they need/wish to access?
• Is there a history of falls?
• Does the client experience pain? If so, what are the exacerbating and alleviating factors?
• What types of community ADLs/involvement does the client wish to participate in, including but not limited to shopping, medication retrieval, religious services, banking, employment, parenting?
• How much time does the client spend in the wheelchair each day?
• What is the method in which the equipment will be transported?
• Where will be the primary use of the equipment?
• And most importantly, what is the goal of the new equipment?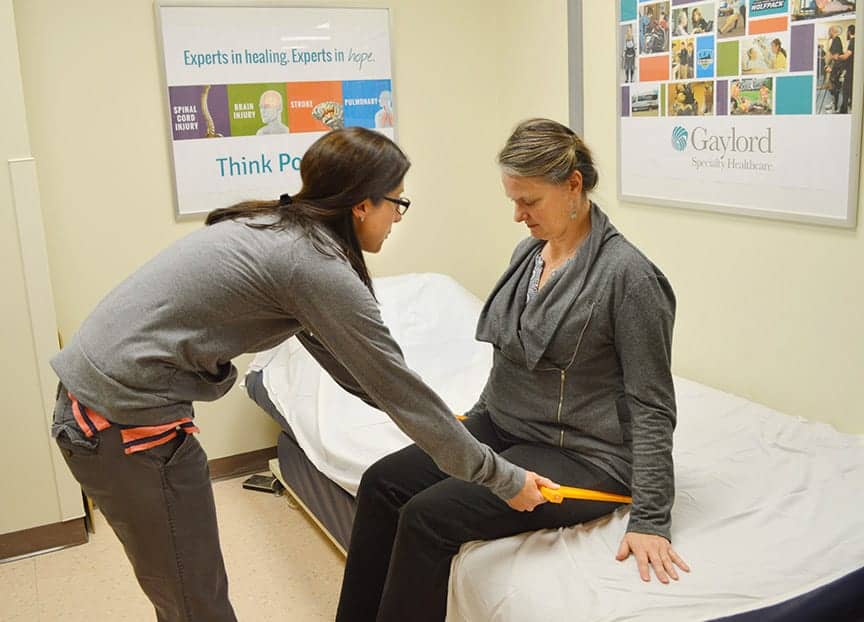 II) The Mat Assessment: For a Thorough Full-Body Evaluation
he mat assessment is a crucial part of the assessment process. It is best practice to transfer the client to the mat to conduct a full-body assessment to attain the most accurate information regarding as many of the body systems as possible, including musculoskeletal, neuromuscular, and integumentary. The stable support base is also needed to ascertain postural findings and support needs that will be incorporated into the wheelchair components.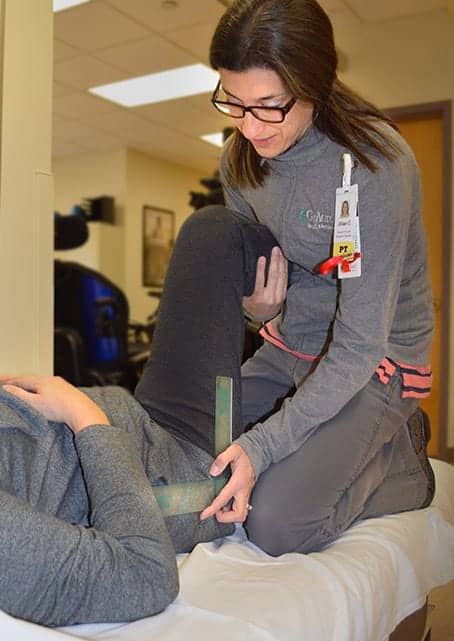 Areas to focus on during the mat assessment can include range of motion, muscle strength and tone, motor control, postural symmetry/asymmetries, and balance. Occasionally, depending on the client's primary and secondary diagnoses, additional objective measurements may be necessary to assist in painting an accurate picture for funding sources and equipment justification. These may include documentation of oxygen saturation, respiratory rate, and blood pressure. Vision and cognition are other potential areas to consider.
III) Equipment Simulation: The Driving Force of the Assessment
The information collected throughout the interview and mat assessment ultimately determines equipment specification and simulations. Gaylord Specialty Healthcare's Wheelchair Services is fortunate to have many wheelchairs, both manual (folding and rigid with mono- and dual-tube frames) and power (front- and mid-wheel drive systems from multiple manufacturers), power assist systems, and support surfaces for the client to trial, including numerous back supports and seat cushions from the major manufacturers.
The trial is a crucial part of the wheelchair assessment process as it helps to ensure the client will be able to effectively propel and operate the equipment. It also helps to provide a clear picture of which support surfaces will be required for ideal positioning, pressure relief, and comfort.
Manual Mobility Considerations
It is important to talk through the advantages and disadvantages of the equipment that may be medically appropriate for the client. Folding frame manual chairs are often mistakenly thought to be easier to transport due to their ability to fold in the center. I often demonstrate to clients how a rigid frame will break down to let them decide what will work best for them. The decision often comes down to how they will be able to independently transfer the equipment to/from a vehicle. It can be helpful to have the client trial putting the equipment into a vehicle themselves before making a final decision.
Further decisions ensue that concern rigid frame chairs with mono- versus dual-tube make-up. Mono-tube may allow the client to transfer the wheelchair into their vehicle easier while providing improved shock absorption versus the dual-tube, which minimizes flex and allows for improved efficiency but may not absorb shock as well.
Power Mobility Considerations
When choosing a power wheelchair, the client must decide what drive configuration—front, mid, or rear—best works for their needs. Rear-wheel drive, while popular on the market many years ago, seems to not be a popular choice among new users. Although improvements have taken place with the ability to utilize a power center mount foot platform, thus decreasing the overall length and turning radius of the chair, it still does not seem to be high on the list of a new user. Mid-wheel drive has the best turning radius. However, a front-wheel configuration does not trail far behind and may be beneficial for tight indoor spaces or outdoor use.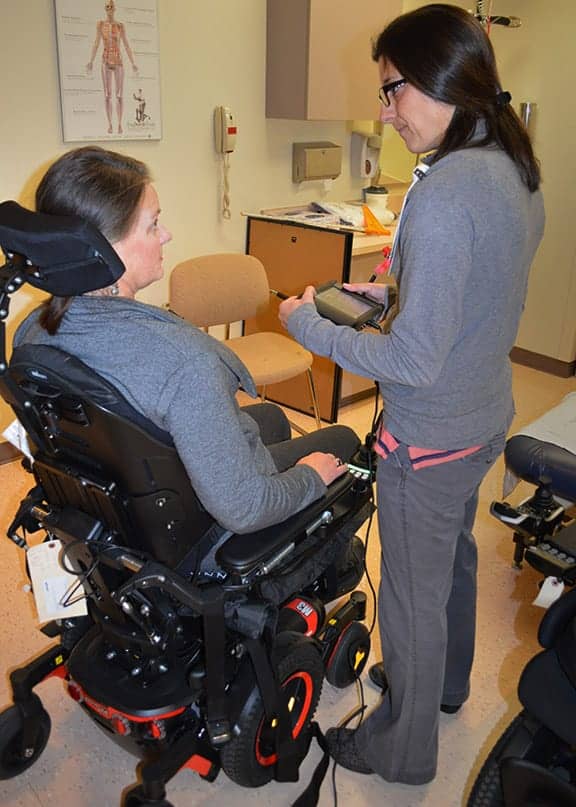 Power seating functions such as tilt and recline are a must if the client has issues with skin integrity, sensory impairments, and/or pain. Combined with an elevating front rigging, this may provide improved pressure distribution to decrease peak points of pressure if combined with the right pressure-relieving and positioning support surfaces. An elevating seat, while not always covered by insurance, may allow a client improved accessibility to countertops, cabinets, the thermostat, and light switches, providing an independence they would otherwise be unable to achieve.
Suspension and Drive Control
Other key topics touched upon during equipment specification include suspension and the drive control method. Suspension, while available with all brands of power wheelchairs to different degrees, is important to provide shock absorption for those affected by chronic pain when traversing over uneven surfaces such as thresholds and outdoor terrain. Shock absorption may also assist in minimizing forces translated to a client who has issues with chronic wounds.
In terms of a drive control method, the standard joystick seems to be the most frequently utilized. However, it is important to ask in the interview process if the client reports fatigue as the day progresses using the standard joystick. At that time, an alternative drive control may be recommended.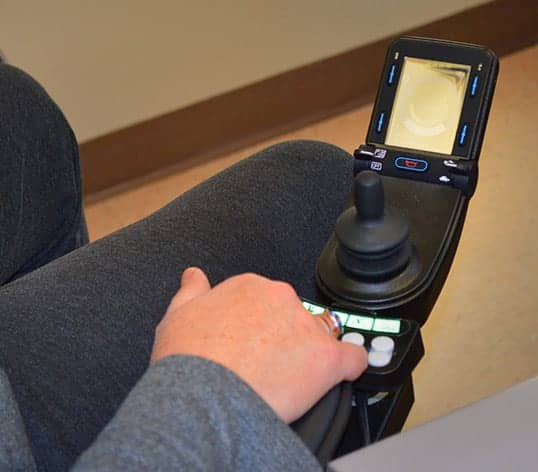 It is imperative to trial the wheelchair, support surfaces, and drive control method to ensure the client is able to operate the equipment. The Gaylord Wheelchair Assessment Services offers a broad range of equipment and features available for clients to trial during their initial visit. The wheelchairs within the clinic setting are able to accept alternate drive controls for trial, such as the head array, allowing a client's trial to be completed that day.
Occasionally, however, information gained through the interview and mat assessment may indicate equipment simulation that is unavailable within the clinic setting. This may occur with alternative drive control using a mini-joystick with access point at the hand or chin, sip and puff system, or a power wheelchair with power standing feature. In this case, the client will return to the clinic for further assessment and to finalize equipment specification with the availability to simulate the recommended equipment at that time.
If it is determined that further training is needed for safety and proficiency, the client may be referred to outpatient therapy for power wheelchair training which will identify the patient's ability to safely operate the chair. This information is also forwarded to the funding source, which can solidify the case for approval.
IV) Equipment Specification: Pinpointing the Ideal Model
After all of the information is processed between the team, the therapist and DME provider will work on equipment specifics and the letter of medical necessity will be generated. Features available between different manufacturers may also lead the equipment specification in one direction or the other (for example, the ability to acquire a titanium frame or use of anterior tilt feature in a power wheelchair). An algorithmic approach is utilized for both manual and power wheelchair justification.
In the case of manual wheelchairs, standard, lightweight, and high-strength lightweight chairs need to be ruled out based on the algorithmic approach as such chairs are less customizable. What sets an ultra-lightweight manual wheelchair apart is its weight, ability to acquire custom sizing and wheel camber, and both infinite horizontal and vertical wheel axle adjustment with the goal to optimize propulsion efficiency while maintaining stability and postural support and alignment for function. Any full-time, active manual wheelchair user should utilize an ultra-lightweight manual wheelchair to allow for customization of the wheel axle, which promotes improved glenohumeral joint alignment for efficiency with propulsion and to decrease the client's risk for repetitive strain injury.
In the case of power wheelchairs, less costly equipment must be ruled out, including ambulatory equipment, optimally configured manual wheelchairs, and power-operated vehicles with substantiated justification needed for power wheelchair recommendation.
If it is determined that a client is in need of a custom mold, follow-up will also be scheduled with the DME provider and a technician to ensure optimal shape capture. The goal of the custom mold determines which system is utilized, as they all have different advantages and disadvantages.
Fitting and Delivery: The Final Phase
Depending on the complexity of the equipment, a 45- or 90-minute appointment will be scheduled for fitting and delivery of the custom equipment after insurance approval. At that time, the DME provider and rehab technician (or even the therapist) will make appropriate adjustments to the client's new equipment. It is important to deliver equipment in the clinic for a thorough fitting as small adjustments can make the difference between being independent and the client not using the equipment. In the case that a component was missed or a modification is needed, either can be immediately addressed.
Beyond the Wheels: Other Considerations
Additional services provided through the Gaylord Specialty Healthcare Wheelchair Assessment Services include pressure mapping assessments and standing frame assessments.
Pressure Mapping Assessments
Occasionally, a client will be referred to Gaylord for a pressure mapping assessment to address a number of issues including discomfort, skin redness or wounds, or to simply confirm that the individual is using the appropriate cushion. An interview and mat assessment are conducted prior to performing the assessment. The interview is important as skin breakdown can occur for reasons other than the cushion. A mat assessment is equally important to provide visualization of postures or positions that may be hidden if the client remains seated in the chair.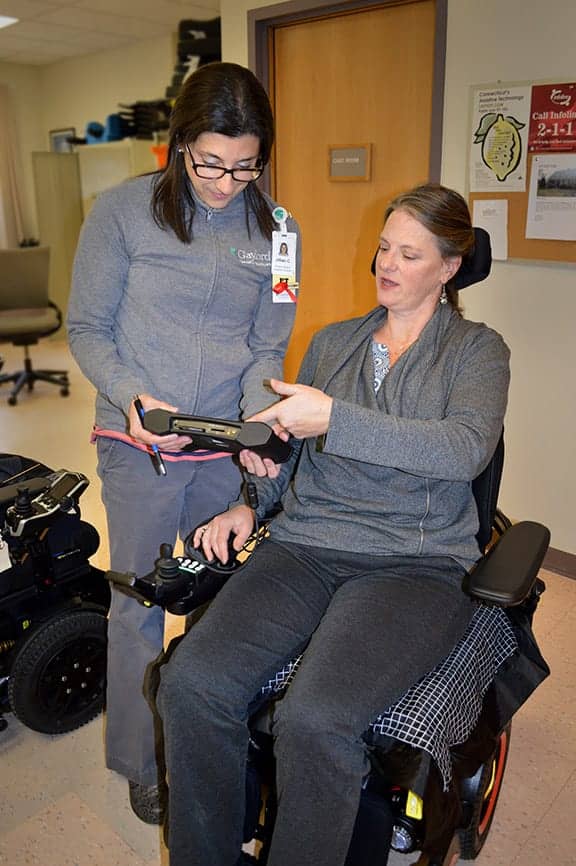 It is vital to determine the client's transfer method, as slide board transfers may increase shear forces and cause further breakdown or prolonged healing. Occasionally, clients will complete their hygiene tasks while remaining suspended in a lift system. The amount of time spent in the sling — as well as the type of sling used — may impact the skin's ability to heal if the edges around the wound are being pulled. It is important to also determine the client's ability to perform weight-shifting maneuvers for pressure relief and to note the frequency of said maneuvers. Wheelchair users with sensory deficits, compromised skin integrity, and who spend prolonged periods of time in a wheelchair should perform tilt (35 degrees) and recline (120 degrees) for ~3 minutes to minimize loss of blood flow of weight-bearing soft tissues.3
Of course, these questions may not be evident at first, but after a successful map in which no areas of peak pressure have been noted, it is important to establish the client's lifestyle and factors that may influence their ability to heal or their propensity to develop a pressure injury or to assess their difficulty in healing a chronic wound.
Standing Frame Assessments
Clients often come to Gaylord Wheelchair Assessment Services to request standing equipment such as a stationary standing frame or a power wheelchair with power standing feature. Best practice would be to have the client prove that she or he can tolerate a standing program by progressing toward degree of uprightness and increasing time spent in this position. Without this information, the client may not only be at greater risk for equipment abandonment, but it may become significantly more difficult to justify the medical necessity of this type of equipment to the funding source.
If the client has never stood, a return to the physician is recommended to establish medical stability from a bone density standpoint to tolerate prolonged standing and force through the long bones. Once medical clearance is obtained, it is recommended that the client undergo a standing program. Gaylord Specialty Healthcare is a hospital-based setting. Therefore, the client would be referred to outpatient physical therapy to establish documentation of a successful standing program. Once this is determined, the client will return to the clinic for equipment specification. If request is for a power standing device, coordination with the manufacturer's representative will have been made to have the equipment available for trial at that time.
Bringing Home the Best
The wheelchair world is ever-changing and, in a bid to remain competitive, wheelchair manufacturers are continually upgrading their existing models while still falling within funding guidelines. The ongoing focus on developing and improving mobility technologies has expanded the variables that must be considered in developing the optimum solution for a mobility user. For example, in making decisions about the available features on an ultra-lightweight manual wheelchair, questions must be settled regarding mono- versus dual-frame ultra-lightweight manual wheelchairs, folding wheelchairs with 300-pound weight capacities, ergonomic seats, and titanium and carbon fiber frame upgrades. Power technologies demand consideration for a different set of variables such as seat elevators that safely operate at higher speeds, anterior tilt, standing, and lower extremity extension to the floor.
These are just some of the many variables that factor into decisions about mobility devices; decisions that must be steered from a fully informed position. Working closely with the durable medical equipment providers of complex rehabilitation technology, as well as with manufacturers' representatives, will help therapists to remain abreast of the continually shifting market, and help their clients bring home the best solution that fits their needs. RM
Jillian Cacopardo, MPT, ATP/SMS, is the Clinical Program Coordinator for Wheelchair Assessment Services for Gaylord Specialty Healthcare, a provider of complex medical care and rehabilitative services located in Wallingford, Conn. Cacopardo, who specializes in wheelchair assessment and inpatient rehabilitation, received her Bachelor of Health Science and her Master's Degree in Physical Therapy from Quinnipiac University. She is certified as an Assistive Technology Professional and as a Seating and Mobility Specialist. For more information, contact [email protected].
References
1. World Health Organization. Guidelines on the Provisions of Manual Wheelchairs in Less Resourced Settings. Available at: https://www.who.int/disabilities/publications/technology/wheelchairguidelines/en/. Accessed February 12, 2019.
2. RESNA. Wheelchair Service Provision Guide. Available at: https://www.resna.org/sites/default/files/legacy/resources/position-papers/RESNAWheelchairServiceProvisionGuide.pdf. Accessed February 12, 2019.
3. Jan YK, Liao F, Jones MA, Rice LA, Tisdell T. Effect of durations of wheelchair tilt-in-space and recline on skin perfusion over the ischial tuberosity in people with spinal cord injury. Arch Phys Med Rehabil. 2013;94(4):667-672.