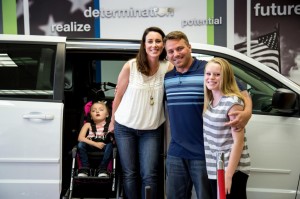 Vantage Mobility International provided the final push in a successful effort to connect a Phoenix family and their wheelchair-bound 6-year-old daughter with a new 2014 Dodge Grand Caravan with the VMI Northstar E manual side-entry ramp conversion.
The wheelchair accessible vehicle (WAV) reportedly was financed through the family's fund-raising campaign, private donations and VMI's support.
"VMI's Northstar E side entry manual ramp conversion was designed for families like the D'Ortenzios," says Doug Eaton, president of VMI. Eaton describes the vehicle as the only new wheelchair accessible van on the market with a side-entry, in-floor manual ramp that costs about the same as the average new vehicle.
According to a media release from VMI 6-year-old Reese D'ortenzio is affected by Aicardi Syndrome, which causes her to be completely dependent on a caregiver and needs to be transported in a WAV. The D'Ortenzio family created a fund-raising campaign, "Wheelchair Van for Reese," asking for public donations to help purchase a preowned mobility van. The media release reports that in fewer than 30 days, private donors and the community raised most of the money needed. VMI reportedly contacted the family to provide the balance of funds and offer a new wheelchair van. The VMI Mobility Center customized the Dodge Northstar E conversion for the family with an added jump seat and remote start.
Other features the VMI media release notes are included on the Northstar E manual in-floor, side entry ramp system include:
Full-cut floor and removable passenger seat that allows a wheelchair user to sit next to the driver
A simple-to-use manual in-floor ramp that can be stowed and deployed by caregivers of any size or age without bending
In-floor ramp keeps doorway clear when stowed
In-floor ramp offers more interior space for wheelchair maneuverability
Optional mid-row seats for increased passenger capacity and alternative seating options
Side-entry benefits for the cost of a rear entry conversion
[Source: Vantage Mobility International]