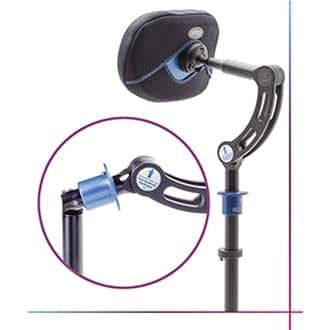 The Twin Headrest Hardware from Symmetric Designs was recently voted winner of the 2019 Harding Award for Product Innovation by attendees at the Canadian Seating and Mobility Conference (CSMC) in Toronto, held April 30 and May 1.
Ki Mobility shares this award for its Ethos chair, according to the Salt Spring Island, BC, Canada-based company in a media release.
The Twin Headrest hardware can be optioned with three different functions: Flip+, Dynamic+ and Forward Flex.
The Flip+ option allows the hardware and headrest to easily and quickly flip backwards out of the way for transfers. The release collar is strong and clearly labeled for caregivers and family.
The Dynamic+ option provides 1 inch of tone deflection through the horizontal mount for the headrest pad. The strength of the tone deflection can be changed be installing a softer or firmer spring, which is included with the hardware. The Dynamic+ feature can also be turned off, providing a static mount. Simply turn the locking lever.
The Forward Flex option doubles the forward reach of the hardware, giving it 17 inches of reach from the backrest. This could be an ideal solution for kyphotic clients, the company notes.
All three options can be had individually or combined.
For more information, visit Symmetric Designs.
[Source: Symmetric Designs]