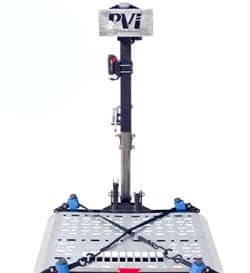 A universal power chair lift is available through Prairie View Industries (PVI), Fairbury, Neb. The INDE2 Independence Power Chair Lift is designed to hold most power wheelchairs and features one-switch operation.
The company notes that the product requires no chair or scooter modifications and offers users a 3-year warranty. The INDE2 also features a weight capacity of up to 350 pounds and an optional weight capacity upgrade to 400 pounds.
The product is compatible with a Class II or III Hitch and can be secured by 4 Q'Straint Tie Downs (not reportedly recommended for those with limited dexterity). PVI states that a manual crank backup and license plate mount are included with the INDE2. Swing-away and Plug-n-Play Battery Options are also available.
For more information visit www.pviramps.com.
[Source: PVI]