Pride Mobility Products Corporation and Quantum Rehab announce that, during Medtrade Spring 2013, each will be spotlighting its newest innovations designed to be economically sound and to provide patient-first outcomes.
Pride Mobility innovations include: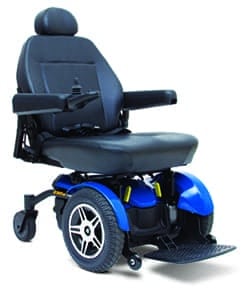 • The new Jazzy Elite HD (pictured right), providing users a 450-pound weight capacity and heavy-duty construction. The product features a two-motor, front-wheel drive, 4-post seating system for improved stability and positioning, NF-22 batteries, 14-inch knobby tires, and weight distribution to provide users with optimized traction.
• Jazzy Elite 14, designed to blend power and performance and also features a two-motor, front-wheel drive, and 14-inch knobby tires, and NF-22 batteries. The product provides a 300-pound weight capacity and speeds of up to 4 miles per hour.
• The Go-Go Sport Travel Scooter, which features a 325-pound weight capacity, charger port in its tiller, and standard front LED lighting. The company notes that its new product provides users with a 20% increase in legroom and pass-through space.
• The LC-525 Lift Chair Series, now marketed in Fudge, Garnet, and Pecan Ultrafrabrics Ultraleather. The chair aims to optimize user comfort through its "zero gravity" position, back style, infinite-position hand control and soft fabric selections.
• The company's new Commander 400 Exterior Lift from Pride Lifts and Ramps. With a 400-pound weight capacity, the product targets adjustability and durability with its water-resistant electronics, 2 axis/3 axis and gatekeeper configurations, and telescoping mounting brackets.
Quantum Rehab innovations include: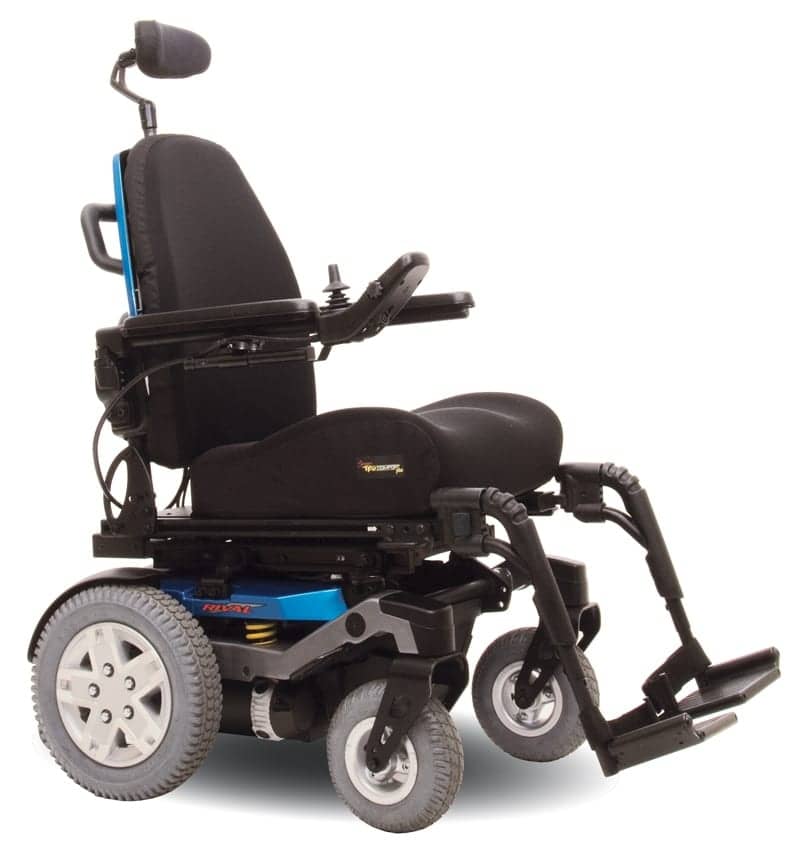 • The new Rival, (pictured right) is engineered to enhance outdoor performance and handling, and ease maneuverability in tight spaces. According to Quantum, the product accepts a complete range of seating and electronics. With a 300-pound weight capacity and sliding battery tray for easy access, the Rival is available in 10 color options and two suspension packages.
• The new front-wheel drive power chair, the Quantum 1450 Bariatric Power Base, which is also designed to accept a complete range of seating and electronics options and offers users a 600-pound weight capacity and maximum speed of up to 4.5 miles per hour.
• The redesigned Articulating Foot Platform (AFP) from TRU-Balance Power Positioning Systems. To meet a variety of users' needs, the AFP aims to provide users with maximized adjustment and durability. The product accepts a wide range of leg sizes, offers multiple calf pad options, and features a broad articulation range.
• New Simplicity GP cushion from Synergy Cushions and Backs. The Simplicity GP is intended to accommodate users with mild skin-protection needs. The product aims to meet these needs by offering users lateral support and moisture buildup reduction. Additional features include a deep-contoured, molded foam base and 2-way water-resistant cover.
• The new Q-Logic 2 Drive Control System is fully programmable, Quantum notes, and features a larger LCD screen to optimize users' visual experience, removable, replaceable controller armor, and built-in ambient light sensor. The Q-Logic 2 is also designed to maximize users' access to a computer, mouse, tablet, and cell phone functions.
To learn more about these products, visit booth #413.
For additional information, visit www.pridemobility.com and www.quantumrehab.com
[Source(s): Pride Mobility Products Corp, Quantum Rehab]