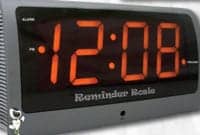 A new voice-controlled assistive technology solution is available through Life Assistant Technologies (LAT). The Reminder Rosie device is a hands-free alarm clock featuring voice-activated commands. LAT notes that Reminder Rosie's spoken alarms may be heard from more than 100 feet away.
The device is engineered to respond to questions and commands that include, "Today's Reminders?" "What day is it?" or "Reminder off." The device is also designed to allow users to program proactive reminders, and the spoke alarms are digitally recorded in the caregiver's voice, in any language, for any important reminder.
According to test trials, the company says, the device also engages both patients and caregivers, allowing for an outcome that can increase older adult independence, the ability to stay at home longer, and provides peace of mind to caregivers in order to reduce stress.
For more information, visit www.lifeassistech.com.
[Source: Life Assistant Technologies]