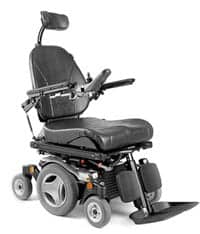 A mid-wheel-drive wheelchair designed to accommodate users up to 450 pounds is available through Lebanon, Tenn-based company Permobil. The M300 Corpus HD is intended to fit into a variety of heavy-duty lifestyles and features a maneuverable M300 base. The company notes that the product also features the Corpus seating system and a base that has been both extended and widened, and a suspension strengthened to ensure a stable platform.
The M300 Corpus HD also offers users sturdy arm and leg rests, extra wide footplates for additional room, power tilt range of 0 degrees to 45 degrees, power recline of 90 degrees to 150 degrees, and ultra-strong actuators to elevate the feet above the heart, Permobil reports.
For more information, visit www.permobil.com.
[Source: Permobil]