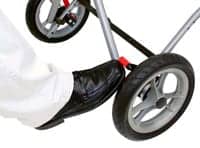 Convaid, Torrance, Calif, has announced that it now offers users a new foot-operated rear wheel lock, engineered to improve ease of use in wheelchairs. According to a recent company news release, as of January 21 all orders placed for the Cruiser, EZ Rider, Metro, Rodeo, Safari Tilt, Cuddlebug, C-Sport, and Clipper wheelchair models will feature the new foot-operated wheel lock design.
Reported benefits for the product include its ability to be foot-operated rather than hand operated, an audible "click" users hear when the brake is completely engaged, and a lock or unlock position, intended to prevent partial engagement and wheel deterioration. The wheel lock has also passed the requirements of ISO 7176-3 for more than 63,00 cycles, the company adds.
For more information, visit www.convaid.com.
[Source: Convaid]