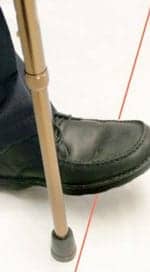 To prevent falls and maximize mobility for individuals with a variety of neurological conditions, In-Step Mobility Products Inc, headquartered in Skokie, Ill, markets a new cane intended to provide minor walking support and an obstacle-free visual cue via laser beam.
The company notes that its LaserCane is engineered to project a bright red line across the user's path, enabling patients to break "freezing" episodes and increase stride length. The LaserCane's laser is height-adjustable for patients 5 feet to 6 feet 1 inch tall, and is powered by two AA batteries.
For additional stability, an optional triangular base may be ordered for the product.
For more information, visit www.ustep.com.
[Source: In-Step Mobility Products Inc]