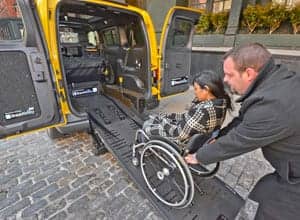 The wheelchair accessible NV200 Mobility Taxi was recently showcased at the New York International Auto Show. As part of the "Taxi of Tomorrow" program and in partnership with BraunAbility, a company news release reports that the Nissan NV200 Mobility Taxi features a rear-entry ramp and integrated restraint system designed to offer users safe and quick securement of wheelchairs.
"Braun has worked side-by-side with us since January 2012—when the New York taxi was just a collection of computer drawings—and the final design is everything we hoped for and more," Joe Castelli, commercial vehicles and fleet, Nissan North America Inc, says.
The Nissan NV200 Mobility Taxi is engineered to look and function like a standard NV200 taxi until users require its mobility functionality. The release notes that once the vehicle has been safely pulled over into a safe space at the curb, the taxi operator can then flip down the vehicle's second row seat back and pull a release handle to tumble the seat forward. After opening the rear doors, the operator can then pull the fold-flat wheelchair ramp out and unfold it, then load the passenger. Front and rear tie-down belts secure the wheelchair while the passenger is fitted with the lap and should belt.
According to the release, the ramp, which features a ramp angle of 8.6 degrees then folds up and stows in a vertical position. For exit, the steps are reversed once the final destination has been reached. The 30-inch wide, 72-inch long ramp is then stowed by the operator, who returns the second row seat to its normal position. The ramp also provides a load rating of 800 pounds, according to the release.
Castelli adds that the mobility design meets or exceeds all ADA requirements for accessibility, "The rear-entry ramp is safe and well-suited for the congested streets of New York City, eliminating the need for wheelchair users to cross traffic in order to enter or exit the vehicle," Castelli says.
The effort is reportedly a culmination of two years work between Nissan and the New York Taxi and Limousine Commission to deliver the "safest and most comfortable taxi on the streets of New York".
Nissan's NV200 taxi is set to appear on the streets of New York City this coming fall, the release reports.
Source: BraunAbility