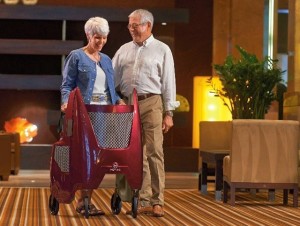 The Tour, a mobility aid introduced to the market recently by Franklin, Wis-based Motivo, is designed to allow users to walk upright inside the device with the aim of reducing fatigue, improving posture, and allowing greater stability.
A news release from Motivo says one of the benefits the design of the Tour provides is for users to be in close proximity to cabinets, drawers, shelves and counters. According to the release, the Tour is built with a stowaway padded seat that enables the upright walking position. A storage compartment, cup holders, and a tray are also features that appear on the Tour, which the company says is designed with an "automotive-grade finish," and available with custom graphics to reflect personal style.
See video of the Motivo in use.
The Tour reportedly weights 20 pounds, features a chassis with 7-inch multispoke wheels, and can be folded to a compact size for travel.