Advances in design and materials are providing the market some of the most exciting solutions ever for mobility users. This showcase of products offered by manufacturers nationwide will help clinicians understand what's available for end users.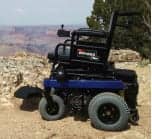 21st Century SCIENTIFIC Inc
Phone: (800) 448-3680
Website: www.wheelchairs.com
Email: [email protected]
Product: Bounder Plus H-Frame Power Wheelchair
The Bounder Plus H-Frame power wheelchair, manufactured by 21st Century SCIENTIFIC Inc, is engineered to provide high performance. The H-style base frame uses 2.5 inch by 1.5 inch by 0.125 inch wall steel and is TIG welded for exceptional strength and durability. The standard Super Torque 3 Motors aim to deliver top speeds as great as 11.6 mph. Slower speeds can be easily configured and programmed if needed. Adjustable Suspension Forks, made of ¼-inch-thick steel and utilizing a 1-inch-diameter stem, provide impact dampening and seat tilt adjustment. A Dual Group 27 Sliding Battery Box provides extended range (up to 40 miles per charge) and easy battery maintenance. Nine inch by 3.50 inch front casters and 12.75 inch by 4.00 inch drive wheels are standard. Drive tires are available in either a smooth or knobby tread. Built-in taillights turn on and off with chair power for added safety. Programmable UE1H electronics provide six drive choices and a battery condition meter. A smart electric brake release switch offers easy pushing of the chair by an attendant.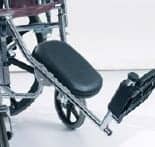 AliMed
Phone: (800) 225-2610
Website: www.alimed.com
Product: iT-Phytz Universal Elevating Leg Rests
The universal-fit elevating iT-Phytz leg rest is engineered to fit most wheelchairs. Replacing the leg rest, not the whole chair, is intended to save users time and money. AliMed has a solution for facilities with a closet full of mismatched leg rests that do not fit; no more wasted time searching for a leg rest that fits—iT-Phytz is universal. It aims to re-equip facilities and save time, money, and unnecessary delay in setting up wheelchairs. iT-Phytz is designed to work on any wheelchair with pin mounts spaced 1½ inches to 3¼ inches apart. The company adds that iT-Phytz Universal Elevating Leg Rests do not fit Invacare "Quickie," Sunrise "Breezy," or old-style pinlock chairs.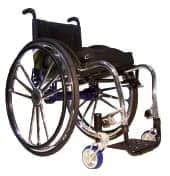 Colours Wheelchair
Phone: (800) 892-8998 or
(951) 808-9131
Fax: (951) 808-9949
Website: www.colourswheelchair.com
Product: Saber manual wheelchair
The Saber manual wheelchair features 1-inch tubing and a rigid aluminium frame. With an emphasis on style and adjustability, the Saber offers adjustable positioning to accommodate a variety of body types. The product's material is composed of 1-inch tubing (A7003) Rigid Aluminum Frame; chair weight from 18 pounds; weight limit 250 pounds; Seat Width is 14 inches to 19 inches/Adjustable; Seat Depth 14 inches to 19 inches/Adjustable; Front Seat Height 16.5 inches to 20.5 inches (3 inch Caster 16.5 inches to 19.5 inches, 4 inch Caster 16.5 inches to 20 inches, 5 inch Caster 17 inches to 20.5 inches); Rear Seat Height 14.5 inches to 19 inches (24 inch wheels 14.5 inches to 18 inches, 25 inch wheels 15 inches to 18.5 inches, 26 inch wheels 15.5 inches to 19 inches); Center of Gravity 1 inch to 5.5 inches; Camber 2, 4 degrees; Front Caster 3 inches, 4 inches, or 5 inches/Suspension Springs 3 inches; 4 inch or 5 inch/Frog Legs 3 inches, 4 inches, or 5 inches; Rear Wheel 24 inches, 25 inches, or 26 inches; Backrest Angle and Height Adjustable. The wheelchair provides users with a 250-pound weight limit and adjustable caster housing, seat width and depth, and air ride suspension. Additional adjustable components include adjustable backrest height and angle, front and rear seat heights, and footplate height and angle. MSRP is $2,145 and HCPCS code is K-0005.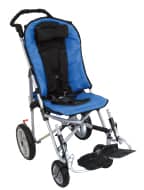 Convaid
Phone: (888) 266-8243
Website: www.convaid.com
Email: [email protected]
Product: EZ Rider, Cruiser, Rodeo, Metro
Convaid, a manufacturer of lightweight, compact-folding, adaptive-assisted wheelchairs, has focused on helping special needs families live fuller, more productive lives since 1976. Convaid products are engineered to offer users performance, portability, and durability, and are subjected to rigorous internal testing intended to go above and beyond industry standards. Convaid understands that users, families, and caregivers must have a wheelchair that is lightweight, convenient, easy-to-use, and also colorful and attractive in keeping with contemporary style. Each chair is custom-built to individual specifications to provide the best combination of corrective positioning, comfort, and safety for the user, in a product that is both attractive and easy-to-use for the caregiver. The patented compact-folding mechanism allows the lightweight wheelchairs to be easily carried up steps, placed in the trunk of most compact cars, or used while traveling. HCPCS codes include E1037, E1232, and E1236. Contact a local dealer for pricing.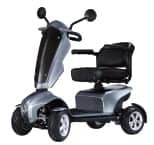 Heartway USA
Phone: (866) 464-9779
Website: www.heartwayusa.com
Email: [email protected]
Product: S16 Public Transport—Power Scooter
The S16 Scooter measures 47 inches in length to accommodate the boarding of buses, cruise lines, and travel to major recreational theme parks. The scooter also features LED front headlights, engineered to provide illumination while driving at night. The S16's LCD Control and Information Display Panel provides users with battery status as well as room temperature. With a captain seat style and maintenance-free, flat-free tires, the S16 offers a top speed of 6.25 miles per hour and a four-pole motor drive train. The scooter also offers full suspension and is engineered to provide a smooth and comfortable ride. MSRP is $3,799. Scooter accessories include a rear basket, rear lock trunk, and oxygen tank holder. Additional accessories for the S16 include a cane holder, scooter cover, and rear storage bag.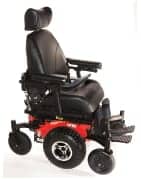 Innovation in Motion
Phone: (800) 327-0681
Website: Mobility-usa.com
Email: [email protected]
Product: Magic Mobility, The Frontier V6
The Frontier V6 is a highly versatile series of five mid-wheel chairs and rear and front-wheel drive chairs. With one base and seven configurations, the V6 is designed to fit any lifestyle without boundaries. The AT is an all-terrain mid-wheel drive that provides off-road capability, as well as versatility to maneuver indoors. The Hybrid, Compact 73, and Compact 40 are all Group 3 coded. These aim to accommodate users who want something that is a little less rugged, but wish to have the range for outdoor capacity. HCPCS codes are K0870, E2377, K0879, and K0886. Power options for the product include 50 Degree Power Tilt in Space, 150 Degree Power Recline, Articulating Power Elevating Legrest, 12-inch Power Seat Lift, and Power Recline with Integrated Shear Reduction. The Frontier V6 accommodates adult users, and the V6 super compact is available for pediatric users as well.

Ki Mobility
Phone: (800) 981-1540
Website: www.kimobility.com
Email: [email protected]
Product: Catalyst, Rogue, Focus CR, Little Wave, and Spark (pediatric) Tsunami ALX
Ki Mobility understands that innovative design must always lead to a functional product that improves lives and makes mobility easier. From agility and maneuverability to structural integrity, strength, and durability, Ki Mobility's wheelchairs are designed to stand out in the competitive landscape through continuous product improvement. The products are intended to offer users best-in-class capabilities and experience. They are built to be durable, flexible, and lighter weight, providing customization for optimum fit, movement, and function. Ki Mobility's product lines strive to offer a full assortment of options at competitive prices. The company also currently offers products that accommodate pediatric and adult clients of all sizes, ranging from 10×10 up to 22×20. From the swing away hanger release found on Catalyst to the RP Tuning on Rogue, Ki Mobility has several design innovations available on different product lines.
Maddak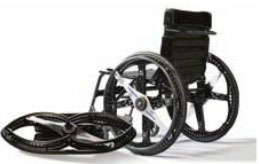 Phone: (800) 443-4926
Website: www.maddak.com
Email: [email protected]
Product: Morph Folding Wheels
Morph Wheels, offered by Wayne, NJ-based Maddak, are foldable wheelchair wheels designed for users who are "on-the-go." Once disconnected from the wheelchair frame, Morph Wheels are engineered to fold to approximately half their open size to ease transport and storage by car or airplane by allowing users to store the product in overhead bins, airplane closets, or under seats. Morph Wheels include rim, push rim, and solid tire, and are designed to fit any wheelchair with a standard quick-release axle. The axle is intended as a fail-safe mechanism, and engineered so that as long as it is connected to the hub of the wheel, there is no risk of the wheel folding while in use. Folded dimensions 32 x 12.5; wheel set weight capacity 300 pounds; weight per wheel 7.5 pounds. Maddak reports Morph Wheels have passed all RESNA/ANSI impact, curb drop, and double drum testing standards.

MAX Mobility
Phone: (800) 637-2980
Website: www.max-mobility.com
Email: [email protected]
Product: SmartDrive Power Assist
The SmartDrive is a new power assist engineered to power up steep hills, through carpet, and over grass. The SmartDrive is lightweight, easy to put on and take off, intuitive to use, and designed to go for days on a single charge. Accommodates pediatric and adult users weighing 80 to 250 pounds. The product's push activation technology allows users to push normally in order to facilitate movement. HCPCS code is E0986 Push Activated Power Assist and MSRP for the SmartDrive is $6,450. The product also offers a 2-year warranty.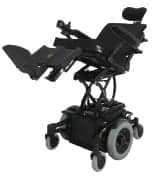 Motion Concepts
Phone: (888) 433-6818
Website: www.motionconcepts.com
Email: [email protected]
Product: F-Series Power Positioning System
The new F-Series is engineered to take access to a higher level. Completely redesigned for 2013, the F-Series is intended as an affordable option that proves function does not need to be sacrificed for economy. With full featured performance without compromise, each F-Series is now available with up to 12 inches of seat elevation with no increase in seat to floor height. The company's patented, adjustable width, drop seat design is intended to ensure users get all the flexibility they are accustomed to with Motion Concepts.
The product is designed to seamlessly integrate with virtually any power base in the industry. It is fully modular, featuring up to 50 degrees of CG Tilt, 168 degrees of Recline, and 12 inches of nearly silent Power Seat Elevation. Now fully width and depth adjustable, the F-Series is available with the full range of Motion Concepts' accessories and Invacare Matrx Seating. Seat-to-floor heights as low as 16¾ inches depending on power base. The product also has a 250-pound weight capacity. HCPCS Coded E1002, and E1007. MSRP as low as $4,700.

Numotion
Phone: (800) 500-9150
Website: www.numotion.com
Products: Complex power wheelchairs, manual wheelchairs, equipment for children, standard power wheelchairs, and scooters
The company's team of professionals aim to support users throughout the equipment evaluation and selection processes, including providing assistance in obtaining necessary medical records and documentation, applying for insurance authorizations and coverage, and filing insurance claims. Numotion will deliver the equipment and provide training to users and their families or caregivers to help those individuals understand how to operate it. Numotion's service and repair teams are available for continued assistance after delivery. Acting as a partner in providing customized rehab solutions, the company's experienced, professional staff aims to help users select the right equipment to meet any challenge and exceed expectations. The company also markets a range of additional parts and accessories and its products accommodate pediatric and adult users.

Ottobock HealthCare
Phone: (800) 328-4058
Website: www.ottobockusmobility.com
Email: [email protected]
Product: Discovery tmax
The discovery tmax wheelbase offers up to 50 degrees of tilt-in-space adjustment for the user, as well as center-of-gravity adjustment, and can be combined with OBSS or NUTEC custom seating to create optimum pressure management and postural stability for the user. Available in a version for children and in three adult sizes, the product is suitable for use indoors and outdoors. Pneumatic or flat-free front and rear wheels are available. The discovery tmax is also width, depth, and height of seat adjustable in 1 inch/2.5 centimeter increments. The product is cable-free and offers maintenance-friendly tilt angle release with foot pedal and release lock, as well as smooth tilt angle adjustment without pneumatic spring, thanks to adjustable center of gravity. The discovery tmax provides users up to 50 degrees adjustment to the orientation in space for the user, as well as the ability to shift the center of gravity in order to create optimum balance. HCPCS coded E1161 (adult base) or E1234 (pediatric base). MSRP is $2,984. Ottobock's line of custom seating and accessories also help complete the discovery tmax, making it easier for users and caregivers to get the most from this mobility device.

Out-Front
Phone: (480) 833-1829
Fax: (480) 833-1837
Website: www.Out-Front.com
Email: [email protected]
Product: The Natural-Fit, Surge, and Q-Grip
The Natural-Fit (left), Surge (middle), and Q-Grip (right) create a suite of adult/pediatric handrim choices that vary in their ergonomics, coating surfaces, and functionality. Handrims can be chosen based on customer preferences. This allows users to choose the ergonomics that feel right to them, the grip size to fit their hands, and a smooth or coated surface to push on. Learn more about the company's handrims on its website by using the Handrim Feature Finder.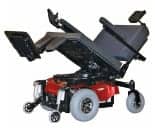 PaceSaver/Leisure-Lift
Phone: (800) 255-0285
Website: www.PaceSaver.com
Product: BOSS 600-Pound Capacity 50-degree Tilt
User groups for the BOSS 600-pound Capacity 50-degree Tilt include bariatric, adult, and pediatric. Custom seating is also available. Users can add a 450-pound or 600-pound capacity 50-degree Tilt to the BOSS 6, 6NS, or BOSS 6.75, with seat width to 30 inches and depth to 26 inches. The company notes that the BOSS 6 can accommodate indoor use with a 27-inch turning radius and extra low seat height to 17.5 inches for short user under table access and improved drivability. The BOSS 6 also can accommodate outdoor use with 180 amp module controller and 1¾ HP inline drive supply maximum range (18 miles) and power (climb 8-degree 140 yard hill 20 times). Additional features include easy step on footrest access, spring suspension, and luxurious 50-degree recline seat for comfort and style. An exclusive vehicle chair Tie Down System option is also available.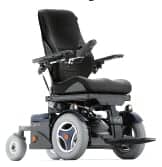 Permobil
Phone: (800) 736-0925
Website: www.permobil.com
Email: [email protected]
Product: C500 Corpus 3G
The C500 Corpus 3G is designed for power. Intended for both indoor and outdoor use, the C500 has the ability to navigate even rough terrain. All the while the independent suspension of the C500 ensures a smooth ride. Additionally, the Corpus seating system is engineered to provide added functionality and adjustment. A power center-mounted actuator offers up to 50 degrees of tilt, and users can recline up to a full 175 degrees. The legrests are curved for improved support, and the armrests feature built-in channels for cable routing, significantly reducing the need for messy wire ties. Available features include four power seat functions, tilt, recline, power elevating legrests, and 8-inch seat elevator. The product accommodates adults, custom sizing available, and seat depths range from 14 inches to 22 inches, and seat widths from 17 inches to 19 inches, 21 inches, and 23 inches. Also back rest heights from 20 inches and 23 inches to 28 inches. The Corpus seating system is designed to be one of the most versatile and comfortable systems available. Permobil aims to be a market leader in front wheel drive technology. HCPCS code is K0884. Permobil offers a wide range of options and accessories; please see your local Permobil representative for a complete list of options and accessories.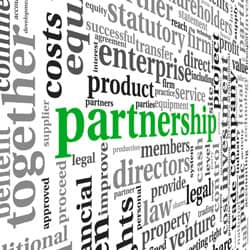 Quantum Rehab
Phone: (800) 800-8586
Website: www.QuantumRehab.com
Product: Q6 Edge
With four-pole motors, Mid-Wheel 6 drive design, and ATX Suspension, the Q6 Edge complex rehab power chair is engineered to meet the performance needs of the most active user. The Q6 Edge accepts a complete range of seating and electronics options, including TRU-Balance 3 Power Positioning with power tilt, recline, elevation, and foot platform variations, and Q-Logic 2 electronics engineered to provide the highly advanced drive controls. With seat sizes from 12 inches by 12 inches to 22 inches by 22 inches, a 300-pound weight capacity, and transit securement points, the Q6 Edge is built to be versatile and high-performing power chair. Power base HCPCS codes are K0848, K0849, K0857, K0856, and K0861.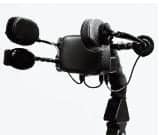 Stealth Products Inc
Phone: (800) 965-9229
Website: www.stealthproducts.com
Email: [email protected]
Product: I2I, I-Drive, DYNO, Lightning
TWB Hardware, Custom Seating, Head Supports, and Alternative Drive Controls
Stealth Products' technology encompasses custom seating—client-specific linear seating line, off the shelf back supports—True Forming Back, Lightweight Pediatric Back, and Alternative Drive Control systems. Stealth custom seating products are comprised of plywood, ABS, or metal base materials with top of the line pressure management foams. A wide variety of fabrics are also available to address client-specific conditions and increase functional effectiveness. Advanced head array electronics also aim to provide a highly user-friendly driving experience. Stealth offers a wide range of unique positioning products including articulating "Link" hardware, and FSC (Full Surface Contact) pad mount plates. The I-Drive Head Array was built to achieve a high standard for technology and function in the alternative drive control product segment. HCPCS codes are E2609, E2617, E0955, E0956, E0957, E1028, E1236, and E2330. Stealth custom seating requires client-specific configuration, therefore pricing is determined based on individual consideration. Stealth manufactures a wide range of positioning accessories for many of the primary mobility base manufacturers. Contact a mobility base supplier for options and availability.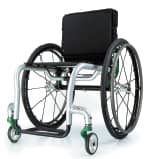 Sunrise Medical
Phone: (800) 333-4000
Website: www.sunrisemedical.com
Email: [email protected]
Product: Quickie Q7
The Quickie Q7 combines 7000 series aerospace aluminum, ShapeLoc heat-treating technology, and ovalized tubing to create an exceptionally light and strong frame. The Q7 features custom frame lengths and caster wheel placement options to maximize maneuverability and stability for each individual. To accommodate a range of users, the Q7 is available in two frame designs that include Adjustable for quick back angle adjustments and Active Rigid with a fully rigid backrest for the lightest weight and most efficient propulsion. With seat widths and depths ranging from 12 inches to 20 inches and a weight capacity of 265 pounds, the Q7 accommodates pediatric and adult users. The Q7 offers options for both clinical benefit and performance, such as Spinergy wheels, Schwalbe tires, 4-Link Rear Suspension, a standard-option Folding Lock-Down Angle Adjustable back, and WC-19 Transit approved up to 265 pounds. The Q7's accessory options include carbon fiber side guards, spoke guards, backpacks, and more Pricing begins at $2425 retail.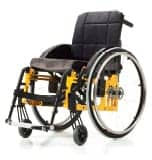 Snug Seat
Phone: (800) 336-7684
Website: www.etac.com/us
Email: [email protected], [email protected]
Product: Etac Cross 5
The Etac Cross 5 chassis' stability means the Cross 5 responds rapidly when pushing off and in bends. Both backrest and wheelchair seat are adjustable in height, angle, and shape. In combination with footrests that can be set in height, depth, and angle, this produces the stability that is the prerequisite for mobility. The new wheelchair side frame also offers numerous improved functions toward better sitting positions and maneuverability. Pediatric, adult, bariatric (Etac Cross 5 XL), and customer sizing available. Base MSRP is $2,000, and HCPCS codes are K0064, E2222, E0961, K0047, E0990, K0040, K0043, E0951, K0108, K0065, E0978, E2207, K0108, E2611, E0977, E0955, E1028, E2601, E0973, E0959, E0950, K0108, E0950, and K01098.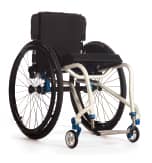 TiLite
Phone: (800) 545-2266 | (509) 586.6117
Fax: (866) 586-2413 | (509) 586-2413
Website: www.tilite.com
Email: [email protected]
Product: TiLite Aero T – Pure Geometry
Dual-Tube Technology is at the heart of the new Aero T adult ultralight wheelchair. The geometry of the flowing lines stiffens the wheelchair, transferring more of the user's push stroke directly to the ground. No wasted energy means fewer strokes throughout the day. In combination with TiFit, this is the key to the exceptional performance of the Aero T. TiLite exclusively offers TiFit, made-to-measure manual mobility. The company states that the difference between a TiFit chair and all other chairs is that a TiFit chair is tailored specifically to the person. Every TiFit chair is an optimally fitted, wheeled prosthetic. As many of the TiLite staff use chairs, they understand how important it is to have choices and that is why the company offers choices of advanced frame materials, TiFit, and a wide array of options on a chair. RM