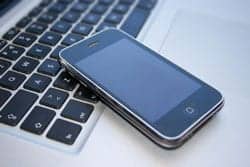 A new mobile app is engineered to provide users reviews on the wheelchair accessibility of businesses, restaurants, entertainment centers, and other destinations. The shared reviews are available through the free AXS Map app online or through mobile web, as well as Android and iPhone applications.
The crowd-sourced technology aims to allow individuals with mobile impairments spontaneity in where they choose to eat, shop, work, or go for entertainment. Users have the ability to search for accessible places or review a location's entryways or bathrooms in terms of accessibility. Users who do not use wheelchairs are also encouraged to contribute to the app, including individuals with canes, walkers, or strollers.
According to the Abilities Buzz, a newsletter for the Abilities Expo, the reviews power a literal map, providing users details about a location's levels of access, such as whether it is technically accessible (meaning no steps to enter the establishment, but the ramp is too steep, etc), or truly accessible (such as, entrance ramp features an incline that can be easily navigated, etc). The app is ultimately designed to create one shared network that provides a community for individuals who are impacted by accessibility and inclusion.
The Abilities Buzz also notes that Jason DaSilva, AXS Map creator, is a Canadian filmmaker, who has had films on Sundance, on CBC, HBO, and PBS. DaSilva was reportedly diagnosed with multiple sclerosis (MS) 6 years ago and lost the ability to walk during the course of 5 years. His challenges served as the catalyst for AXS Map.
DaSilva reveals in the Abilities Buzz that he had never thought about the challenges going up and down stairs and taking cabs presented to wheelchair users. "Only after it happened to me, did my eyes get opened up," DaSilva says.
The Abilities Buzz adds that DaSilva and AXS Lab are currently working to refine and spread awareness about AXS Map, encouraging contributions to the database by holding mapping days in New York City.
For more information click here or visit www.AXSlab.org
[Source(s): Abilities Buzz, www.axsmap.com]