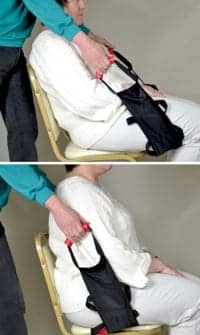 A new mobility device designed to allow caregivers to return individuals to an upright position in their seats and reduce the risk of back strain or injury is available through Maddak Inc, headquartered in Wayne, NJ. The Maddak Patient Slide Mobility Device is 46 inches long with three sets of handles intended to accommodate various-sized individuals and seating scenarios.
The company notes that its product can be slid under the patient's legs, leaving one set of handles on each side. The caregiver can then stand behind the patient and select the handles that are best for the situation, gently pulling up on the Patient Slide to allow the device to slide up over the top of the seat. Maddak explains that the caregiver can then alternate when pulling up between the right and left arm until the patient's back is flush against the chair.
For more information, visit www.maddak.com.
[Source: Maddak]