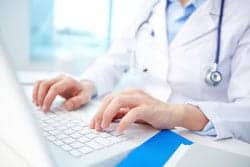 The Brain Injury Association of America (BIAA) reports that it has launched a new career center designed to match brain injury professionals with the best jobs in their fields. According to an BIAA news release, the BIAA Career Center is a free service engineered to provide users access to employers and jobs in healthcare and brain injury.
Through the career center, job seekers are offered the ability to post resumes, browse and view available jobs based upon selected criteria, and save those jobs for later review. Search agents can also be created to provide users email notifications of jobs that match their search criteria.
The career center allows employers to post jobs online, search for candidates based upon specific job criteria, and create online resume agents to contact qualified candidates. The release notes that employers also benefit from online reporting designed to provide job activity statistics.
Additionally, a strategic partnership between the BIAA and the National Healthcare Career Network (NHCN) will offer registered employers and job seekers access to a network of more than 280 top healthcare associations and professional organizations. The BIAA states that its alliance with NHCN provides users access to a larger database of industry-specific resumes and job postings, allowing job seekers to have greater control over career advancements and giving employers a single, "one-stop" resource to find candidates.
To visit the BIAA Career Center, click here
[Source: BIAA]