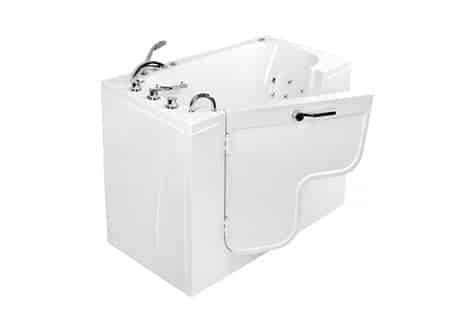 Ella's Bubbles Transfer line of wheelchair-accessible walk-in tubs are built with a specially designed L-shaped outward-swinging door to help users enter and exit the tub easily and safely.
The tubs, made in five different sizes to accommodate all body types, are made with a white acrylic shell supported by a stainless steel frame with leveling legs for durability and easier installation.
They feature a specially designed, L-shaped outward swinging door to make getting in and out safe and easy, as well as strategically positioned jetting around the seat and specially designed foot massage jetting.
Additional features include gravity-driven dual drain technology, Infusion MicroBubble Therapy, ozone sterilization, LED chromatherapy lighting, aroma therapy, variable speed for air massage with auto-purge, and independently operated therapeutic foot massage, according to a media release from Ella's Bubbles.
"At Ella's Bubbles, we believe bathing should be a relaxing and luxurious ritual that everyone should be able to enjoy," says Laimonis Magone, CEO, in the release. "Bathing should be a time to relieve stress not cause it, especially for people with impaired mobility."
For more information, visit Ella's Bubbles.
[Source(s): Ella's Bubbles, PRWeb]