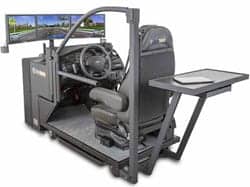 A clinical driving simulator, available through DriveSafety, targets the ability to assist therapists in clinical environments during the assessment and rehabilitation of both ambulatory and wheelchair patients with driving-related issues.
According to Doug Evans, CEO, founder, DriveSafety, the company's high-end CDS-250W Clinical Driving Simulator was developed with input from clinicians and driving rehabilitation specialists, and is intended as "a breakthrough in functional assessment and rehabilitation."
In a recent news release, the company notes that the CDS-250W can be used with the car seat module docked with the driver control console to accommodate ambulatory patients or patients who transfer from their wheelchair to their car. To accommodate patients who do not transfer from their wheelchairs, the CDS-250W car seat module can be detached from the driver control console in order to allow the patient full use of the system from their wheelchair. The release also notes that the height of the driver control console can also be adjusted electronically for patients and wheelchairs of varying sizes.
The technology offers users a total rendered horizontal field of view of 110 degrees through the use of three 19-inch diagonal LCD screens with a resolution of 1920 by 1080 pixels. The company reports that it is comprised of a partial car cab, adjustable car seat with twice the normal range, dash and center console, and a steering wheel with dynamic electric torque feedback. It also features standard automotive driver controls including accelerator and brake pedals, gear select, ignition, turn signals, headlight controls, wireless tablet-based operator interface, and SimClinic software scenario libraries.
[Photo Credit: DriveSafety]
[Source: DriveSafety]