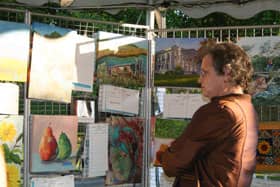 The Walton Foundation for Independence reports that the 7th Annual Undercover Artists Show, a fundraiser intended to benefit Camp To Be Independent (TBI), will be hosted in a new location at the Julian Smith Casino in Augusta, Ga. Camp TBI is Walton Foundation's annual camp designed for children and young adults aged 8 to 21 years with an acquired brain injury.
The Undercover Artists Show is hosted by the Walton Foundation for Independence and assists in sending 50 children and young adults to Camp TBI every year, free of charge. The fundraising event is scheduled to take place April 18, at 7 pm.
The Undercover Artists Show is slated to feature an undercover art auction, displaying original works by more than 100 local artists, community leaders, and celebrities. A recent news release notes that all artists' names are hidden until the very end of the silent auction, allowing each piece to be judged and bid upon based upon its own merit and appeal to the bidder.
Alice Salley, development officer, Walton Foundation for Independence, states that each year the foundation sees high quality art donated to the event and explains that, "This concept was born to draw attention to a second show, the Georgia Artists With Disabilities Juried Show, that we sponsor each April at Walton Rehabilitation Hospital."
For more information call (706) 826-5809 or contact [email protected]
Source: Walton Rehabilitation Health System