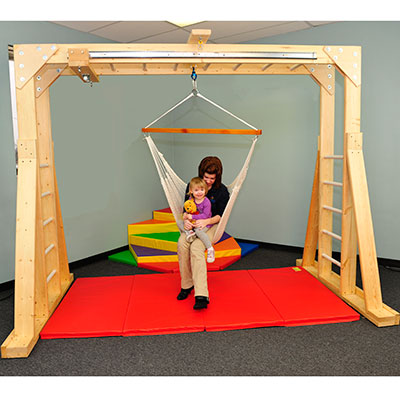 eSpecial Needs, based in St Louis, has developed the Indoor Therapy Gym as a product that can help new provide children the outdoor exercise and vestibular stimulation they need regardless of the weather. The Indoor Therapy Gym is built to combine the motor planning fun of both vertical and linear climbing with swinging activities into one indoor unit for the clinic, classroom, or home.
"Many children with special needs require a certain amount of daily physical and vestibular activity for their development," says eSpecial Needs' Sales Manager Scott Kouri. "That can be tough to do when the weather doesn't cooperate. With our Indoor Therapy Gym, kids never have to miss out on the swing therapy or climbing fun they crave."
According to a media release from eSpecial Needs, the indoor playground is equipped with two climbing ladders, overhead monkey bars, an overhead swing, and a track glider that aim to keep children and teenagers engaged during therapy. The company reports that the Indoor Therapy Gym can help pediatric clients work on body awareness, bilateral coordination, strength training, confidence building, and more.
[Source: eSpecial Needs]