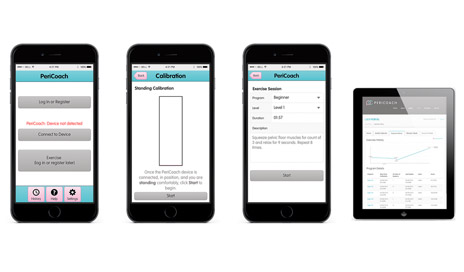 The PeriCoach System is a newly introduced device and smartphone app designed for home use to help women manage pelvic floor muscle training exercises. The system is offered by Brisbane, Australia-based Analytica Ltd, and reportedly includes a web portal that allows clinicians to remotely monitor their patients' progress.
According to a media release from Analytica Ltd, the PeriCoach is available in the US by prescription from a physician, nurse, or a physical therapist, and can be ordered directly at www.PeriCoach.com with an uploaded prescription.
"Pelvic floor muscle strengthening, or 'Kegels,' are typically recommended for women who experience bladder leaking as a result of life events, such as pregnancy, childbirth or menopause, or physical activities like jumping or running. These exercises have the best chance of success at reducing or eliminating the embarrassing leaking if they are done under the supervision of a medical professional," notes Beth Shelly, PT, DPT, WCS, BCB-PMD, in the Analytica media release. "PeriCoach gives the patient more information about the performance of their exercises at home and makes it simple for clinicians to monitor progress between clinic visits."
The company repots that up to 50% of women are unsuccessful when given only verbal or written direction from a healthcare professional. The company states that is it further estimated that 50% of women will experience urinary incontinence at some point in their lives.

A description of the system notes that three biosensors are built into the PeriCoach device to detect the strength of each muscle contraction. Results are instantly sent to a smartphone over a Bluetooth wireless connection. The app collects and analyzes the readings and gives a picture of how the user is doing over time. It also sends reports from the smartphone to a clinician or pelvic health specialist.
The release also report the PeriCoach System received approval from the US Food and Drug Administration in March.
[Source: Analytica Ltd]