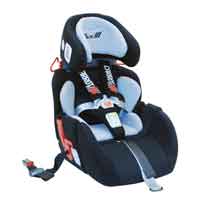 In an effort to further ensure user safety, Convaid, headquartered in Torrance, Calif, announces that it is having all its business development representatives nationally certified as child passenger safety technicians (CPST) and trained in adaptive positioning from The Safe Travel for All Children.
The company notes that as CPS technicians, Convaid business development representatives can assist parents and caregivers in properly securing children in the correct restraint with hands-on-help, and educate them on crash dynamics, injury prevention strategies, child restraint selections, and installation and vehicle occupant protection.
According to a recent news release, Convaid employees also underwent a course about transporting children with special health care needs to enhance their knowledge in the proper use and installation of special needs restraint systems.
Chris Braun, Convaid president, reports that the training stems from the company's marketing of the Carrot 3 (pictured above, right), a special needs car seat restraint system. "Now that we carry the Carrot 3 … I wanted to make sure our staff is well-educated on the matter and can assist our customers without any problems. Our staff is available to assist our dealers and therapists, as well as performing car clinics within the community," Braun says.
The company adds the Carrot 3 recently underwent modifications to enhance adjustments and fitting.
For more information about Convaid or the Carrot 3, visit www.convaid.com.
[Source: Convaid]