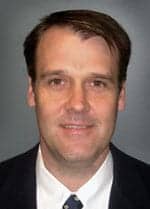 Kevin McMahon (pictured right) has been selected by the Braun Corporation to serve as its executive vice president of sales and marketing, the company announces in a recent news release. The release notes that McMahon previously served as managing partner of the technical marketing and consulting firm, The Martec Group Inc.
McMahon brings to the company a range of skills and experience in the global transportation industry and in marketing and strategic planning, Braun adds. During his time with The Martec Group, McMahon developed his expertise in the automotive, transportation, and mobility industries. McMahon also worked with Fortune 500 companies to reshape market strategies and position products in domestic and global markets.
As executive vice president of sales and marketing, McMahon will be responsible for all sales and marketing at Braun Corporation, including commercial, consumer, and international. "I look forward to working with the tremendous group of people at Braun and our dealer partners," McMahon says.
Nick Gutwein, Braun president, articulates the company's excitement in welcoming McMahon into the sales and marketing fold. "He brings with him a remarkable ability to build high-performing teams and strategic partnerships, which will be critical to our growth in 2013 and beyond," Gutwein says.
[Source: Braun Corporation]