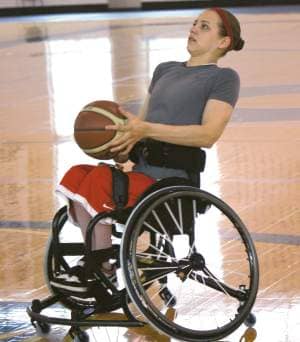 Positioning a wheelchair athlete for success requires proper alignment and the appropriate center of gravity.
Victory for clinicians, coaches, and wheelchair athletes alike is rooted in the basics: developing strategies to optimize effectiveness. This thinking stems from key considerations clinicians must make regarding the experience level of a patient, the sport in which the patient desires to engage, and the funding that can facilitate acquisition of an appropriate sport wheelchair.
BUILDING FROM THE BASICS
Cementing a foundation for success in seating, positioning, and cushioning in a lightweight sport wheelchair requires clinicians to first determine for which sport the chair will be used, and build out from there. Under this approach, seating ranks high.
"[Seating is] one strategy for putting oneself in the position to be the most effective mechanically," explains Lisa Hilborn, MA, CAPE, associate director of Athletics and Recreation at the Lakeshore Foundation, based in Birmingham, Ala. A central thrust of seating is whether the patient is a novice, or a seasoned player who knows exactly how they want to sit. Seasoned athletes likely have "tried and true" individual seating preferences and can benefit from a rigid frame, with minimal adjustability. An adjustable frame, while heavier than a rigid, provides the novice a greater degree of flexibility in seating position. The degree of seating bucket and use of straps also play a vital role in optimizing effectiveness. Seating bucket can increase stability in the chair by drawing the knees closer to the chest.
A greater degree of seating bucket and its impact on a patient's functional ability in the chair enhance effectiveness in the sport of choice. "Strapping one's core to the chair is also an effective way to enhance balance by becoming 'one with the chair,'" Hilborn says. "Quad rugby is a good example of a sport that necessitates a greater degree of seating bucket and use of effective strapping than most sports, as the athletes innately need a great degree of stability in this high impact sport," she adds.
ALIGN AND PROTECT
Converging balance and alignment is another vital facet to be considered in achieving successful seating and positioning in all mobility arenas. Proper alignment, prior knowledge of a patient's wound history, and whether the patient can feel sensations are other considerations that come into play, notes Christy Malonzo, PT, ATP, co-owner of the Long Beach, Calif-based Precision Rehabilitation. "Whenever you're trying to decipher how a person should sit, it's all about what their alignment looks like in the chair. How does their head align with their shoulders, over their pelvis, in conjunction with their femurs and their legs, and how does that fit down on the foot plate?"
Joining alignment with the appropriate center of gravity can tip the scales in an athlete's favor. In a rugby chair, Malonzo explains, "you want to keep the center of gravity really low, so that as the [athletes are] playing and they hit each other, the chair doesn't topple over. But in basketball, you might want the center of gravity high, have a seat-to-floor height that's high so they can reach the ball and have better access and better arm length." Depending on the sport and the chair's ergonomic design, providing adjusted seat height and more wheel rim can also offer a greater opportunity to push more effectively.
Specific to sport and lesion level, cushions also impact effective propulsion and protection against skin breakdown. Lighter weight cushions, including those that are air-filled and use honeycomb technology to wick sweat and other fluids away from the body, may be a viable option for an athlete who has an incomplete lesion level but may not accommodate those with complete lesion levels. As an alternative, sitting in a gel cushion can alleviate pressure. The use of a gel cushion, however, may add as much as a pound to a sport wheelchair. The added weight may seem insignificant, yet in any sport, it can decisively affect performance.
To further protect against skin breakdown, Hilborn recommends patients, particularly those sitting in a great degree of bucket, reconfigure their buttocks by frequently engaging in pressure relief, proning, or sitting in their everyday chair.
PRESSURE SEEKERS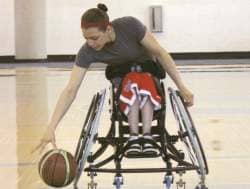 Camber can help reduce shoulder injury and provide athletes with a greater range of motion. Differing levels of seat-to-floor height can also enhance an athlete's reach.
Customized cushions provide a working platform for another element vital to sport wheelchair users: pressure mapping. Assessing the pressure history of patients, and whether they have suffered any skin breakdowns, bolsters the goal of providing optimum fit for sport wheelchair users. Portable pressure mapping systems offer clinicians the opportunity to evaluate patients and observe any areas of shearing that may occur while patients engage in dynamic motions that mimic the motions exerted in the chosen sport.
The role pressure mapping plays in fitting an individual for a particular sport is exemplified in hand cycling, which requires the athlete to lie down for aerodynamics. "You want to ensure that for those lengthy periods of time while they're lying down and their arms are in reciprocal motion, there's no shearing across their sacrum, ischial tuberosities, or bony prominences along their spine. You want them off-loaded in these positions while they are busy playing their sport," Malonzo points out.
Pressure mapping for both sport and manual wheelchair arenas exists essentially to satisfy the same end: to protect against skin breakdown. Where the two designs diverge is the difference in chair setup. The extreme setup of sport wheelchairs provides clinicians with different values for what is being read on the pressure mapping system.
SOMETHING BORROWED, SOMETHING NEW
Small, meticulous changes surfacing in technology, use, and training in the sport wheelchair arena have facilitated a broader spectrum of wheelchair sports and a wider range of tools to allow athletes to gain greater success. The integration of wheels with carbon fiber spokes, borrowed from the world of bike racing, has enabled athletes to optimize performance with wheels that are lightweight, strong, and durable. Carbon fiber spokes allow athletes to tilt without the fear of collapse commonly associated with metal spokes. The spokes have particularly impacted wheelchair basketball, making the chair rims lighter, more responsive, and stronger. The development of dual wheelie bars provides athletes with greater ability to tilt to the right or left laterally to block a shot taken behind them, take a shot, or rebound.
Another innovation borrowed from the world of snowboarding and the concept of snowboard bindings is ratchet straps or "click straps." Ratchet straps are designed to be safer than regular metal buckles in sport wheelchairs, which may prove dangerous to patients who lack the ability to feel the buckle rubbing against the skin. Velcro may also prove dangerous and give way if overly saturated with moisture or sweat. In each case, metal buckles and Velcro seatbelts respond to movement by flexing, reducing stability, and, in the case of wheelchair basketball, the ability to precisely replicate a shot. Ultimately, the ratchet strap offers a higher degree of safety in that the player is able to remain one with their chair if they topple over. The amount of control ratchet straps can provide may also prove to be highly advantageous during a game. Control is vital, as Hilborn explains: "If you think about the implications of that with a basketball or a tennis racket in your hand, the possibilities are endless. You can utilize your head, shoulders, and possibly trunk muscles as a counterbalance to keep your hands doing what they need to do to play the game rather than controlling the chair."
Lighter wheelchair frame materials made from aluminum and titanium and attention to detail in chair aesthetics have resulted in leaner, sleeker, lighter weight products. Push rims, now available with rubber coatings and designed to mitigate overuse injuries that accompany propelling a wheelchair, serve as another tool to maximize performance. Refining the correct toe-in and toe-out in a sport wheelchair assists by decreasing the amount of energy necessary to push.
FIGHTING FOR FUNDING
The extreme setups and innovative technology of sport wheelchairs make it difficult to justify their use and entice insurance companies to pay for them. This rings particularly true for Medicare, which is primarily interested in how the chair is used in the home setting. As a countermeasure, Malonzo recommends clinicians advocate for patients to obtain the product they need, citing workers' compensation as a potential source for funding. Both Malonzo and Hilborn suggest nonprofits such as the Challenged Athletes Foundation and the Christopher and Dana Reeve Foundation as alternate funding sources. Keeping down the cost of sport wheelchairs is an additional challenge for clinicians, as the selection of manufacturers that make certain sports chairs is slim and the clinician is bound to that manufacturer's charges. A chair's base price may be less expensive, but lighter weight, performance-enhancing materials such as carbon fiber wheels can be costly and rank as an up-charge.
A CHAIR FOR EVERY SPORT
One of the distinguishing marks common to all wheelchair sports is the necessity for chairs to be designed specific to an intended sport. The adjustment of seat-to-floor height, integral to seating and positioning, is a vital consideration among various sports. In basketball, for instance, to enhance reach, athletes require a seat-to-floor that can reach the maximum height of 21 inches, compared to the 18-inch to 20-inch seat-to-floor heights of everyday wheelchairs. Each sport will exhibit different wheelchair setups relative to its demands. The concept behind the design of rugby chairs mirrors the goal of the sport itself, to knock out the opponent and win. Heavy, low to the ground, with thick tubing, a wide base, and severely cambered wheels, every component of a rugby chair is designed to knock the opponent hard enough to pop the ball from the player's hands.
The tennis wheelchair is the polar opposite of the rugby wheelchair. Tennis chairs are agile and "made as light as possible with as much camber as reasonable," Hilborn notes. The chair's ability to change directions quickly, to start and stop fast, optimizes its performance.
The life expectancy of a sport wheelchair is as varied as the chairs themselves, and may be cut short by new designs and innovations that surface as frequently as every 2 years. Lengthening the life of any sport wheelchair rests on consistent maintenance. Maintaining the chair's axles, front casters, and wheel alignment, and keeping each moving part of the chair tight, is key. Provided that the patient is sponsored, and many higher-level athletes are, the manufacturer may take care of the repair and/or replacement of the sport wheelchair. Upkeep of upholstery is also important. Keeping upholstery tight will help the patient retain proper stability and posture by preventing sway in the chair's back.
KEEPING UP WITH "UPKEEP" DURING TRANSPORT
Athletes who own and maintain one wheelchair for everyday use and one for sports face special considerations that mirror those connected to lengthening a chair's life expectancy. Hilborn and Malonzo emphasize the importance of maintenance and the need to educate the patient about the proper care of the chair, particularly in regard to insurance companies' 5-year plans, which may not provide coverage if premature damage has occurred to the wheelchair and compromised its function. "People have to take care of it, it's their mobility," Malonzo adds.
Except for the most highly specialized sport wheelchairs, quick release wheels and folding backrests add to the compatibility of both sport wheelchairs and the athletes' everyday chairs. These features can help simplify transport to and from local events. Checking the chairs with luggage for air travel is common practice, but also not without risk of damage to the chairs.
PERSONALIZING
The potential for customization in sport wheelchairs extends beyond technological enhancements. Athletes also have the opportunity to boast upholstery in a variety of patterns, paint colors into the wheelchair's frame, and add stamping, or anodizing, as a vehicle of self-expression.
Ultimately, the alliance of clinician and patient serves as the greatest catalyst for effectiveness in the sport wheelchair arena, manifesting not only in points accumulated in a game, but in progressive victories in the therapeutic setting.
---
Brittan West is an associate editor for Rehab Management. For more information, contact .