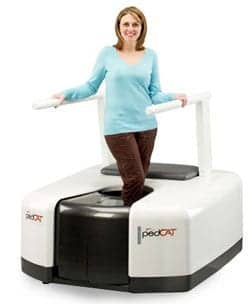 The pedCAT, reported to be the first true in-office 3D weight bearing cone beam computed tomography scanner for the foot and ankle by CurveBeam LLC, the company it is available through, has received a CE Mark approval, according to a recent news release. According to the Warrington, Pa-based company, the pedCAT system is designed to image one or both feet in true weight bearing position, creating full three dimensional reconstructions of the bony anatomy in less than 3 minutes.
The company adds that it plans to install pedCAT in Europe at Krankenhaus Rummeslberg, Berlin, Germany. A recent news release notes that Martinus Richter, MD, PhD, orthopedic surgeon, will pioneer the technology. The pedCAT, which also reportedly received FDA approval in April 2012, will be exhibited during the 19th Annual Meeting of the German Orthopaedic Foot & Ankle Surgery Society in Stuttgart, Germay, March 8 to 9.
Arun Singh, CurveBeam CEO, articulates the company's excitement in receiving the CE Mark certification, "We attended the European Foot & Ankle Society annual conference in Holland last September, where the pedCAT was received with tremendous enthusiasm, and there was great anticipation for the CE Mark milestone. Now we are excited to be in a position to deploy the first wave of units at some of the leading Foot & Ankle practices and research institutions across Europe. The first system has already been shipped to Germany, while another is expected in London this quarter," Singh says.
Since receiving FDA 510(k) approval in April, the company says, the pedCAT has been integrated into multiple facilities in the US. The technology is also ISO 9001 and ISO 13845.
Source: CurveBeam LLC