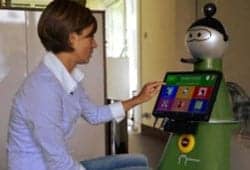 The European Commission's Community Research and Development Information Service (CORDIS) announces that a customizable robotic companion designed by researchers to provide support to older adults is currently being presented across Europe. A news release reports that the mobile wheeled semi-humanoid device features cameras, sensors, audio, and a touch screen interface.
The device is engineered to remind users to take medications and as part of a larger smart-home environment that can include smart clothing to monitor vital signs, the system can monitor user's health and alert emergency services if necessary.
Herjan van den Heuvel of Smart Homes, states that he oversaw the robot's development and emphasizes its impact on the aging population in Europe. "Care may be provided by professionals or in a care facility, but often the caregiver is the person's partner or another family member. What we are seeing is that carers may also need additional support themselves—especially if they are older. Our vision is that technology can provide it." Van den Heuvel adds that the integration of the system with smart homes and smart clothes has been a broad project.
The MOBISERV robot companion is intended to offer users cognitive support, reminders, and suggestions to enhance quality of life. The robot is able to monitor user behavior to determine the appropriate times in which it can approach users, talking to them or providing information via a touchscreen interface. The interface was created, researchers say, to allow caregivers, partners, or family members to configure the robot to meet individual needs and preferences.
The release notes that MOBISERV partners are seeking funding for follow-up projects or a joint spin-off in order to maximize and perfect their design and conduct larger-scale user trials.
[Photo Credit: MOBISERV project]
[Source: European Commission, CORDIS]