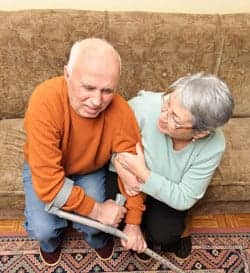 Individuals aged 50 years old or more who have sustained a fracture as a result of a slip or trip play a key role in preventing a future fracture, in terms of their awareness of bone health and heightened risk for additional fractures. According to Dorcas Beaton, BSc(OT), MSc, PhD, lead study author, director of the Mobility Program Clinical Research Unit at St. Michael's Hospital, individuals known as fragility fractures who understood their potential risk for another fracture were more likely to take preventative measures against it.
The study reportedly encompassed research participants from 37 fracture clinics around Ontario, Canada. The participants completed a survey regarding their perception and knowledge of osteoporosis with the bone health coordinators in the clinics. Researchers say treating practitioners appeared to be more likely to order a bone density test and preventative care if the patient was informed and aware the he or she might have an underlying bone health issue.
Beaton reports that many patients did not perceive themselves to have a bone health issue and therefore would be less likely to follow up with their physicians to discuss their options. Many also were unaware that a fracture occurring after the age of 50 following a slip, trip, or fall from a low height could be an indicator of a bone health issue that could be immediately addressed.
Beaton points out that while treatment decisions lie with the primary care physician or nurse practitioner and patient, "It seems that the patient's awareness is currently central to the process, to even getting the process started."
Source: St. Michael's Hospital