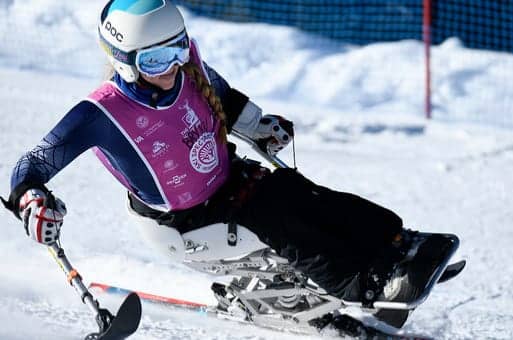 The 31st annual The Hartford Ski Spectacular—a week-long winter sports festival for individuals with physical disabilities—takes place December 3-9 at Beaver Run Resort and Breckenridge Ski Resort in Breckenridge, Colorado.
The adaptive sports event, hosted by Disabled Sports USA, will feature more than 800 participants, ranging in ability from first-time skiers to members of the US Paralympic Team, who will come together to kick off the winter season with instruction and competitions that teach beginners and train athletes for national and international competitions.
Paralympians Mike Schultz and Noah Elliott, who medaled for Team USA at the 2018 Winter Paralympic Games in PyeongChang, South Korea, are among the participants.
Also participating will be more than 100 wounded military veterans, service members, family and military medical staff from the United States and Great Britain. Wounded or injured service members are also participating from Walter Reed National Military Medical Center, San Antonio Military Medical Center, Naval Medical Center San Diego, and from across the country, notes a media release from Disabled Sports USA.
Among the participants this year will be survivors severely injured in the mass shooting in Las Vegas on October 1, 2017, including Chelsea Romo who lost one eye and suffered damage in her other eye.
"I can't wait to come to The Hartford Ski Spectacular and give snowboarding a try! I've been through a lot this since last October, and this is an amazing opportunity to have fun and learn a new sport," she says, in the release.
"Learn to" programs in alpine and Nordic skiing, biathlon, sled hockey, curling, ice skating and snowboarding will be offered during the festival. In addition to these lessons, The Hartford Ski Spectacular also strengthens and expands adaptive snow sports programs in communities throughout the United States by training staff and volunteers at DSUSA chapters in the National Adaptive Academy.
"We are thrilled to partner with The Hartford, the US Department of Veterans Affairs, and other generous supporters to kick off the winter season with this premier adaptive sports event for youth and adults with disabilities," states Glenn Merry, executive director of DSUSA. "The Hartford Ski Spectacular has been the go to event for individuals with disabilities to get world-class instruction in skiing and snowboarding and exemplifies how our athletes are achieving their goals and gaining independence through the power of sports."
The Hartford, a founding partner of U.S. Paralympics, is celebrating its 25th anniversary as the title sponsor of The Hartford Ski Spectacular. In addition, The Hartford is expanding its partnership with DSUSA through its new Ability Equipped program to improve access to adaptive sports and equipment as well as grants to more than 20 of its local chapters across the country, the release continues.
"The Hartford is honored to celebrate its 25th anniversary as the title sponsor of this incredible event," shares Mike Concannon, head of Group Benefits at The Hartford, in the release.
"We are also proud to expand our support for DSUSA through our new program. Our partnership with DSUSA helps demonstrate our Ability Philosophy, which focuses on what a person can do, versus a perceived limitation. We believe that with the right resources and a focus on ability, people can achieve amazing things."
[Source(s): Disabled Sports USA, PRWeb]