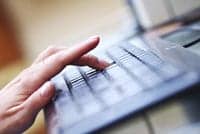 WebPT, headquartered in Phoenix, has introduced the development of a new e-commerce site, designed to provide discounted therapy products. The site is intended to seamlessly integrate with the company's electronic health record (EHR).
Users will be offered the ability to purchase therapy products from reputable suppliers through the Marketplace at discounted rates, according to a company news release. Heidi Jannenga, PT, MPT, ATC/L, co-founder and COO, WebPT, emphasizes the company's excitement as an EHR to offer users a fully integrated e-commerce experience.
"We only achieved this because of our 17,000-plus customers—they helped us shape the product, the user experience, and ultimately, the unprecedented discounts we've been able to obtain." These combined efforts, Jannenga says, aim to continue to improve and change the rehab therapy industry.
The WebPT Marketplace will reportedly feature a wide range of therapy products, repeat shopping lists, reminders, product reviews, and recommendations.
The company adds that its customers will be able to access the Marketplace directly through the WebPT EHR.
[Source: WebPT]