America is experiencing an obesity epidemic. In 1980, 47% of Americans were obese/overweight. Today, the figure stands at 65%. There is no end or plateau in sight. A research team at John Hopkins University looked at more than 20 published studies and predicted that 75% of adults in the United States will be overweight by the year 2015. 
Did you know that we get more obese as we age? Approximately 20% of Americans between the age of 25 and 34 are obese; another 10% percent of the population becomes obese with each succeeding decade up to the age of 55. Obesity is defined as having a body mass index (BMI) of 30 or higher. BMI is equal to your weight in pounds divided by your height in inches squared and then multiplied by 703. The Centers for Disease Control and Prevention has a calculator for BMI, which can be found at [removed]www.cdc.gov/ nccdphp/dnpa/bmi/calc-bmi.htm[/removed].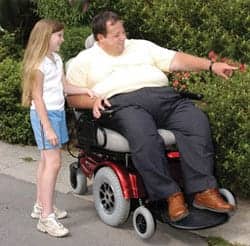 OBESITY AND HEALTH
Obesity increases the risk for many serious diseases, including:
Diabetes;
Heart disease and stroke (cardiovascular disease);
Osteoarthritis;
Urinary incontinence;
Gallbladder disease;
Sleep disorders (including sleep apnea);
Cancer; and
Psychological problems/mental disorders.
More and more studies are documenting the effect of obesity on medical care and rehabilitation. Researchers from the Mercer University School of Medicine, Macon, Ga, found that quality of life decreased and the number of hospital stays increased with increasing levels of obesity. Length of stays at medical facilities also increased. For the period 1976 to 1980, patient stays were 60% (overweight), 94% (obese), and 218% (morbidly obese) longer, respectively. After orthopedic surgery, people who are obese are more likely to be discharged to a rehab facility (versus home) than people who are not overweight or obese.
A study in Israel found that rehabilitation was statistically significantly less effective in obese patients. These lower scores were seen even for obese people who did not have chronic diseases known to be linked to obesity. Compared with normal-weight patients, overweight and obese patients reported lower overall satisfaction scores at their most recent medical visit.
Increased demand for bariatric equipment has and will continue to be seen in all care settings: hospitals, rehabilitation centers, and acute, long-term, and home care facilities. To successfully serve this market, companies must develop a "bariatric market strategy"—not simply extensions to existing product lines. Therapists and rehabilitation specialists must be trained to assess, treat, and recommend equipment for this population.
As it currently stands, rehab professionals are caring for larger and heavier patients on a daily basis, and are, hence, predisposed to injury. This presents an ultimate conundrum to the medical professional who must provide personal care, mobility opportunities, and activities for all clients—large or small. This is going to take some serious ingenuity. What are the tools that professionals must use to provide services to the bariatric patient? What are the barriers to care? What are the avoidable threats of caretaker injury? How does one administer to a rehabilitation program when dealing with this increasing population? What are the cost concerns? How can improvements be made to this situation?
A number of studies reveal the increasing incidence, cost, and number of back-injury claims associated with caring for the bariatric patient. Equipment specially designed for overweight patients can improve quality of care, reduce the patient's length of stay, and make it easier and safer for caregivers to perform care. Heavy-duty mechanical lift walkers, which accommodate patients weighing from 300 to 1,000 pounds, make it easier to safely assist in ambulating heavy, weak patients. Beds, support surfaces, and wheelchairs that support up to 1,000 pounds also are available.
Providing equipment specially designed for the bariatric patient is important for reducing work-related back injuries among caregivers and lowering the risk of related patient injuries. Health care facilities must have a plan in place to care for the special needs of the morbidly obese patient. Studies suggest that a no-lift environment is possible with careful planning and the right equipment. This is especially important, since the therapist and/or rehabilitation provider is also likely to be overweight or obese.
These plans, developed and implemented by rehab providers, should ensure that care is appropriate to the patient's size and needs. Preplanning with manufacturers and vendors to provide equipment for the morbidly obese patient, when possible, can alleviate many problems. Make sure elevators, lifts, wheelchairs, waiting room chairs, beds, shower chairs, and commodes that can accommodate up to 1,000 pounds are available. Door frames have to be wide enough to accommodate these devices. Criteria-based protocols for the use of specially designed equipment should be created to ensure appropriate, timely, and cost-sensitive use of equipment. Performance-improvement teams can be used to help a facility develop and implement policies and resources to meet the needs of patients (and health care providers) who are obese.
Shopping list for the office/clinic where clients are seen:
Chairs that hold up to 800 pounds and are extra wide should be higher, and a lift that helps the person stand up is helpful
Toilets that can accommodate extra weight and may need to be higher for ease of getting on and off
May need wider doorways
Plinths/tables that are extra wide, extra padded, power rise and lower, and can hold up to 800 pounds
Shopping list for the office/clinic where clients are treated:
Commodes
Bedpans
Beds
Mattresses
Lifts
Wheelchairs
Shower chairs
Standing frame
Walker
Parallel bars
Blood pressure cuffs
3x examination gowns
Shopping list for the bariatric patient being discharged to or cared for at home:
Commode
Bedpan
Bed
Mattress
Lift
Wheelchair
Shower chair
Standing frame
Walker
Car seatbelt extender
ACCOMMODATING LARGESS
I asked the Cody Verrett, and expert on seating and mobility for the bariatric patient for some of his recommendations for therapists and rehab techs in the field.
Ginny: How does the company you work for modify the power delivery for folks over 400lbs?
Cody: From the ground up the product is designed and tested to standards that far exceed the specified weight capacity. So from base components in the motors and gear ratios, to seating dimensions and available accessories, for the bariatric power mobility category, we examine everything.
Ginny: Are their any power systems that have been crash tested with 400lb crash dummies?
Cody: All of our power positioning systems are tested internally well above the recommended weight capacity of the system following the testing protocols of cycle, two-drum and drop.
Ginny: Where in the seating do you accommodate for the "redundant tissue?"
Cody: For basic seating configurations I accommodate for excess tissue by having cut-outs in the back rests that provide relief to redundant tissue. For more advanced seating and positioning requirements, our custom group can specially configure basically any custom requirements for seating and positioning needs.
Ginny: What kind of cushions do you recommend for the bariatric patient?
Cody: Most large seating providers have a variety of seat cushion products ranging from basic to advanced with sizes up to 24 x 24 for most models, and my company even has a model that has a max seat dimension of 32 x 28. Most products are available in virtually all the Medicare code classifications from the E2603 Skin Protection code all the way up to the E2608 Skin Protection & Positioning code.
Ginny: Tell me about seat belts? What kind of buckle should I use?
Cody: The best choice is usually a large sized seat belt (up to 90″) with auto-style latch.
Next, I spoke with Sandy Cormier, CRTS of Rehab-in-Motion in San Antonio, Laredo and McAllen, Texas. She just finished running the educational seminars at the Texas Rehab Providers Council annual meeting and has some great advice.
"The biggest consideration is ACCESS. If I actually provide a manual chair that fits the width measurements of the client, my experience is that it will not go through the doorways and hallways in the home. I have learned that the clients usually want their adipose tissue very snug in the chair. If you make the chair to their size, they are not stable. Of course, you can not make it too tight or you can impair blood flow, breathing, etc. I have found that when I order a 26″ wide chair for a hip measurement of 26", the client is extremely uncomfortable and feels like they are "swimming" in the chair. If I put that same client in a 24″ wide chair, they are snug ( I am speaking of the 450-600lb clients) and feel much more secure."
Sandy continued, "Generally, I try to get my clients who are morbidly obese into power if possible. If you think about this population, they have terrible access to the wheels for propulsion due to the fact that they generally have their reach shortened by the additional girth. For the client who is morbidly obese, a manual wheelchair becomes a dependent method! With the currently available power bases, the seat is the widest part of the chair, with the base being most narrow under the seat. In a manual wheelchair, the chair will end up being, at a minimum, 7″ wider than the seat width. Just think of how many home doorways are at least 35″!"
SUMMARY
The literature tells us that our clients, co-workers, employees and even ourselves are just getting larger. We will have to continue to shift our practices to make sure we have the correct tools to assess, treat, seat and move people who are morbidly obese. Let's all start today by committing to wearing a pedometer and ensuring 10,000 steps a day. How about making that latte a "grande" instead of a "venti." Take the stairs down if it's less that 5 floors. Little changes make a big difference. One donut a day means 10lbs gained that year. Change begins with you and me. The healthier we are, the better we can serve our clients.
REFERENCES
Charney W, Zimmerman K, Walara E. "The lifting team. A design method to reduce lost time back injury in nursing." AAOHN J. 1991 May;39(5):231-4.
de Pablo P, Losina E, Phillips CB, Fossel AH, Mahomed N, Lingard EA, N Katz J "Determinants of discharge destination following elective total hip replacement." Arthritis Rheum 2004;51(6):1009-17
Kalichman L, Rodrigues B, Gurvich D, Israelov Z, Spivak E "Impact of patient's weight on stroke rehabilitation results." Am J Phys Med Rehabil. 2007 Aug;86(8):650-5.
Wee CC, Phillips RS, Cook EF, Haas JS, Puopolo AL, Brennan TA, Burstin HR. "Influence of body weight on patients' satisfaction with ambulatory care." J Gen Intern Med 2002;17(2):155-9
Zizza C, Herring AH, Stevens J, Popkin BM. Length of hospital stays among obese individuals. Am J Public Health 2004;94:1587-91.
RECOMMENDED READING
Charney W, Zimmerman K, Walara E. The lifting team. A design method to reduce lost time back injury in nursing. AAOHN J. 1991;39(5):231-234.
de Pablo P, Losina E, Phillips CB, et al. Determinants of discharge destination following elective total hip replacement. Arth Rheum. 2004; 51(6):1009-1017.
Kalichman L, Rodrigues B, Gurvich D, Israelov Z, Spivak E. Impact of patient's weight on stroke rehabilitation results. Am J Phys Med Rehabil. 2007;86(8):650-655.
NIH obesity research. obesityresearch.nih.gov/health/public.htm. Accessed August 23, 2007.
Wee CC, Phillips RS, Cook EF, et al. Influence of body weight on patients' satisfaction with ambulatory care. J Gen Intern Med. 2002;17(2):155-159.
Zizza C, Herring AH, Stevens J, Popkin BM. Length of hospital stays among obese individuals. Am J Public Health. 2004;94:1587-1591.
Ginny Paleg, MS, PT, is a pediatric physical therapist in Silver Spring, Md. She is the reimbursement representative and listserve monitor for the pediatric section of the APTA. She is a member of the APTA workgroup addressing PT qualifications to assess and recommend power mobility and DME. She offers continuing education seminars on body weight support gait therapy, seating, and positioning, and transportation safety for people in wheelchairs. She can be reached at .