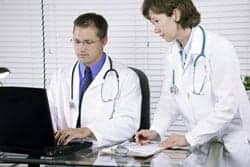 A grant issued from the National Institute of Neurological Disorders and Stroke (NINDS) to five Cleveland biomedical research and healthcare institutions will support a collaborative effort to develop the Cleveland Stroke Clinical Trials Regional Coordinating Center. A news release from Case Western Reserve University School of Medicine notes that it will administer the 5-year, $1 million grant through its Clinical Translational Science Collaborative (CTSC).
The release reports that under the grant, Case Western Reserve will work with its CTSC partner institutions, including primary affiliate University Hospitals (UH) Case Medical Center, Cleveland Clinic, MetroHealth Medical Center, and Louis Strokes Cleveland VA Medical Center, to enhance prevention and treatment of strokes as well as rehabilitation for stroke patients.
According to the release, Anthony J. Furlan, MD, will serve as primary investigator on the Cleveland project. Furlan is chairman and professor of neurology at Case Western Reserve University School of Medicine and UH Case Medical Center. Peter A. Rasmussen, MD, associate professor of surgery at CWRU School of Medicine and director of the Cerebrovascular Center at Cleveland Clinic, will serve as co-principal investigator.
"With many hospital sites that have experience in stroke care and clinical research, we will be able to enroll large numbers of patients into a wide variety of clinical research trials," Furlan says.
The release states that the grant provides resources to advance collaboration among the four major centers as well as 14 individual hospitals within their respective systems.
Rasmussen echoes Furlan's sentiment, adding, "This partnership will help advance stroke research that will ultimately lead to better treatment and care for stroke patients."
[Source: Case Western Reserve University]