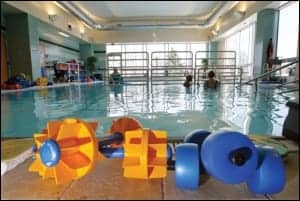 Patients work one-on-one with a therapist in water warmed to 90 to 93° in the new therapy pool at Alegent Health's Outpatient Rehabilitation Center, Omaha, Neb.
Baby Boomers want options as they begin to notice the aches and pains of aging, says Jill Powers, OTR/L, administrator for Alegent Health Rehabilitation Services, Omaha, Neb.
"Frankly, consumers are changing," Powers says. "They are more interested in prevention, education, and staying healthy—so much so that they are willing to do something about it."
Warm-water therapy has been in such demand with patients that a new rehabilitation pool was recently installed to meet the growing need. The therapy pool is the highlight of the new $12.2 million Outpatient Rehabilitation Center, a 39,000-square-foot facility that opened this year at Alegent Health Immanuel Medical Center in Omaha.
The rehab center is twice the size of the old one, and better able to serve more patients. Over the past 5 years, the number of outpatient physical rehab visits has been increasing by 6% to 7% annually at Alegent Health, Powers says. That outpaces the national industry norm, which stands at a 4% to 6% increase each year.
For more information about aquatic therapy, visit www.Alegent.com/rehab , Warm Springs of the West and Healing Waters.
MOVING-FLOOR SYSTEM
The new, state-of-the-art therapy pool has 75,000 gallons of warm water and a moveable floor. Like the previous pool, the floor can be raised and lowered to adjust the water depth. Additionally, each half of the pool can be moved independently, says Mary Rosenberg, PT.
This gives people with disabilities easier access to therapy. Trisha Kult, 34, has spina bifida and is in a wheelchair. "Because the floor moves, I can walk in the pool—there's no place else I can go to do that," she says. "It's great for me."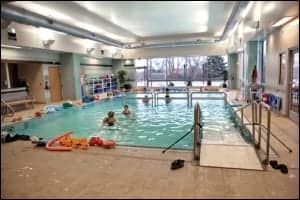 A pool with a moveable floor system allows Alegent Health staff members to add deep-water exercises to therapy routines. The floor can be raised and lowered to adjust the water to a depth of about 6 feet, and each half of the pool can be moved independently.
Kult initially sought help at a physical therapy clinic elsewhere, but she says the staff members did not know how to help her. Kult then turned to Alegent Health, started physical therapy, and within a week, the team added the pool therapy to her sessions. "It was very successful," Kult says. "I am so much stronger and have a lot less pain now."
Kult works out in the pool and at the gym twice a week, and has lost 20 pounds since coming to Alegent Health 2 years ago. She uses the parallel bars to work her abdominal muscles, which helps her get in and out of her wheelchair. Her service dog Chapel, a golden retriever, is allowed to accompany her to the rehab center. "My stamina is better now. I used to need rest after 3 to 4 hours of sitting in my chair," Kult says. "I'm using different strokes to move core muscles—I'm tired when I get home, but it is good for my heart."
The adjustable floor on the new pool can reach a depth of nearly 6 feet. This allows staff members to include deep-water exercises to help patients with stabilization and aerobic benefits, Rosenberg says. "We only had a depth of 5 feet in the last pool, and one man who is 6 foot, 7 inches tall was halfway out of the water," she says. "It's helpful to be able to adjust the depth of the water now."
In 1986, Alegent Health was among the first in the country to install a warm-water pool with a split, moveable floor. It measured 20 feet by 40 feet. The new pool, slightly larger at 25 feet by 45 feet, is currently one of two in the United States. The other is at California State University-Northridge. The German company that manufactures the moving floor system has been selling the pools worldwide since 1980. The slightly larger pool accommodates more people for aquatic center programs, Rosenberg says. These range from one-on-one skilled care with a therapist, to group therapy, to a retail-style membership program, which has attracted 400 people.
Take The Plunge
Aquatic therapy regimens can benefit clients with a range of needs, and meet the special needs of pediatric and bariatric patients. Explore the pool of resources available when implementing an aquatic therapy program, such as in-ground and above-ground pool lifts; platforms; an aqua step; ladders; ramps; aquatic walkers, wheelchairs, and other supportive equipment; pool maintenance chemicals; nonslip flooring; underwater treadmills; adaptive bathing suits; and aquatic fitness and therapy equipment such as aquatic barbells, hand bars, kickboards, noodles, belts, neck collars, ankle weights, balls, balance boards, and paddles.
—Compiled by Judy O'Rourke
When patients complete their skilled care, they often want to keep exercising in warm water, Rosenberg says. "We offer a variety of community classes, which are a nice springboard when a patient is done with therapy."
The aquatic center membership offers general fitness classes and open times for individual exercise. Most notable is that members can join "like-diagnosis" groups, exercising with others who have conditions such as arthritis, diabetes, or back-and-spine pain. When patients come together three times a week, they develop camaraderie as a group, and that improves their long-term health, Rosenberg says.
Aquatics is a great way to initiate an exercise program and maintain general fitness, she notes. "The importance of exercise continues to increase, especially in light of health reform and with some health insurance plans becoming more restrictive," Rosenberg says.
WARM-WATER THERAPY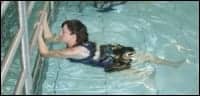 The moveable floor allows Trisha Kult to enter the pool in a wheelchair, where she waits as the floor is lowered to adjust for proper water depth during her exercise routine. Photo by Jodi Hoatson, Alegent
Warm-water therapy is particularly effective for patients with arthritis, back pain, joint pain, orthopedic injuries, sports injuries, and neurological or muscle deficits. There are two key elements at work in the pool: buoyancy and warm water that ranges from 90 to 93°.
"We deal with a large population that has chronic pain," Rosenberg says. "The buoyancy of the water supports a person, and the warmth helps them relax muscles that have been guarding or protecting a painful joint. This can help them exercise with less pain." Patients can move more freely to perform therapies that increase muscle strength and tone, range of motion, and mobility. Additionally, a person who is waist deep in the water will feel a 50% decrease in the pull of gravity, Rosenberg adds.
"We have patients who can barely walk," Rosenberg says. "We are able to get them into the water, and the buoyancy helps them walk." This means Geraldine Howard, who is recovering from double knee replacement surgery, can get into therapy faster. Howard comes in for 30 minutes of aquatic therapy every day—working to get her strength back after surgery. The new pool and surroundings add to the healing environment. "It's so much more uplifting," Howard says. "It is a little easier to work out when I can see outside while I'm in the new pool."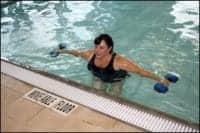 Trisha Kult is able to stand in the pool as she does upper-body, strengthening exercises that increase her ability to lift herself in and out of her wheelchair. Photo by Jodi Hoatson, Alegent
AQUATICS OPTION
Often, therapists who work on land see aquatic therapy as a last resort, if they think of it at all, Rosenberg says. "When I worked on land, if patients did not do well, I just sent them back to the doctor," Rosenberg says. "But patients can do a variety of activities in the water, and they can sometimes do them sooner than on land. The pool gives us another option." She encourages therapists to take opportunities to observe and learn more about the benefits of aquatic therapy. "It's important for therapists to keep aquatics in mind for patients who do not tolerate land therapy," she says.
CONTINUUM OF CARE
In addition to the aquatic center, the new Outpatient Rehabilitation Center features a physical and outpatient therapy gym and on-site physiatry care, Powers says. The fact that physiatrists are located in the building, and not in an off-site clinic, makes access and communication easier for everyone, she says. "Basically, we've created a continuum of care," Powers says. "Patients can come to one location instead of being bounced from one place to another, and that makes it convenient for them."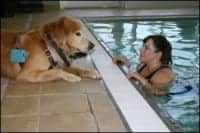 Trisha Kult's service dog, Chapel, keeps a close eye on his owner as she goes through her exercises in the Alegent therapy pool. Photo by Jodi Hoatson, Alegent
The team at Alegent Health also listened to patients when it came to planning for outpatient therapy needs, Powers says. "We investigated technology because people want to know what is available," she says. "As a result, we expanded our capability to treat persons ranging from those with severe neurological deficits to the more active weekend warrior." The gym features state-of-the-art equipment for a variety of diagnostics, such as balance-and-mobility assessments and strength and flexibility. "We offer our full continuum [for] someone with a severe stroke to a 50-year-old with aching joints who wants to keep exercising," Powers says. "It comes down to conditioning, strengthening, and building endurance."
Savvy consumers are taking ownership of their own exercise programs and seeking low-cost options. The 50-year-old with joint pain is a bit young for joint replacement surgery, but learns he can manage pain with warm-water exercise. Not only is warm-water therapy effective, but it also costs less than surgery, Powers says. "As health care reform evolves, we need to become more efficient in our care and provide the lowest-cost options to our patients," she adds.
The new Outpatient Rehabilitation Center averages 200 patients a day with room to grow—providing all of the services patients need to reach their goals, Powers says. As they enjoy the new amenities at the rehabilitation center, patients can count on individualized therapy in a healing environment with a team of compassionate caregivers helping them every step of the way.
RESOURCES
KBE Bauelemente, Germany, www.kbe-bauelemente.de/englisch/home.html
California State University-Northridge, www.csun.edu/hhd/kin/capd.html
---
Katrina M. Moerles is a communications strategist for Alegent Health, Omaha, Neb, where she has worked for 13 years. Jill Powers, OTR/L, operations leader for Rehabilitation Services at Alegent Health, has been with the health system for 27 years. To arrange a site visit of the Alegent Health Rehabilitation Center, which has a continuum of care including acute inpatient, 12 outpatient clinics, sports medicine, and two wellness centers, contact