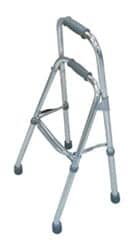 A sidewalker designed to accommodate bariatric patients with use of only one hand or arm is available through AliMed, Dedham, Mass. The company notes that its Bariatric Sidewalker is lighter than a walker and is intended for users who do not require a walker, yet require a wider base for support.
AliMed adds that the product offers more stability to users than a cane and can be folded easily with one hand.The Bariatric Sidewalker's height can be adjusted from 32 inches to 35 inches and has a weight capacity of 500 pounds.
For more information, visit www.alimed.com.
[Source: AliMed]