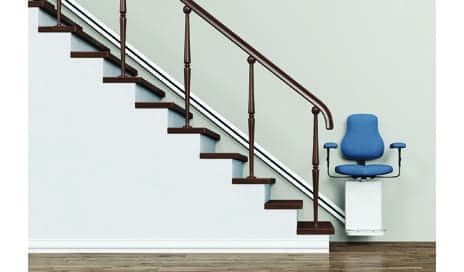 Compiled by Rehab Management Staff
Regardless of mobility function, patients need to move in their surroundings for essential care as well as for activities of daily living. For some patients, moving from room to room or into bathing areas will require the assistance of a patient lift or transfer device. These technologies not only keep their users moving into the areas where their services are provided, such as bathing and toileting, but they also provide safety and convenience to caregivers and professional care staff. Rehab Management profiles some of the industry's providers of patient lift and transfer technologies in the following Q&A, which provides details about the features and benefits rehab directors, care providers, and users themselves will find most important.
Aquatic Access Inc: Linda Nolan, President
Describe your product technology, and its features and benefits.
We have several models of pool and spa lifts, which are required by the ADA to offer independent operation. Our lifts are powered by water pressure from a plumbed-in line or a hose to a faucet. Fresh water enters the cylinder, causing the seat to rise. The lift is then ready for use all day with no energy usage. As the seat descends, the water recycles into the pool, replacing evaporated water, so there are no energy costs. Depending on model, our standard lifts have a weight capacity of 300 pounds to 400 pounds. We offer headrests, flip-up armrests, and upper and lower seat belts as accessories.
How does it contribute to the safety of making a lift/transfer?
Helping a person in and out of a swimming pool, especially when s/he and you are wet, could be especially difficult. Once a person is seated, and seat belts attached if necessary, a simple turn of a knob lifts and lowers the person, or stops at any point. Water pressure also has a safety advantage. As long as there is water in the cylinder, the seat cannot lower quickly. Even if the water supply were interrupted, the seat can be stopped anywhere in its travel; or if not stopped, could only descend at its normal speed.
What sets your system apart in the marketplace?
Our products are engineered to have a simple and elegant design, where form follows function. This allows for the use of free water pressure power, and few moving parts for greater reliability—parts that can be replaced by any handy person with common tools. There are no expensive electronics or extensive maintenance schedules—just inspection and the occasional cleaning and polishing.
We feel that what sets Aquatic Access apart in the marketplace is our long history with these products. Our founder, John Nolan, invented the first pool lift in 1980. We put a strong emphasis, as designer and manufacturer, on a willingness to design to the customer's needs and provide exceptional service.
Bruno Stairlifts: Anne Moore, Marketing Services Manager
Describe your product technology, and its features and benefits.
Stairlifts: Bruno focuses on providing stairlifts with a high degree of quality, design, and safety. With a slim, vertical rail design, Bruno stairlifts are designed to install extremely close to the wall, leaving plenty of open space on the stairs. There are also continuous charge strips that repower the unit wherever it stops (straight stairlifts), and the lifts have up to a 400-pound lift capacity.
The stairlifts are designed to have a generous seat size with multiple height adjustments, flip-up arms, seat, and a footrest for space efficiency. The stairlifts have multiple power options, and two 12-volt batteries help ensure dependable performance even in power outage, while obstruction safety sensors and a seat belt ensure safety. Also, wireless call/sends allow remote control access, and there is an optional folding rail for straight stairlifts.
Residential Vertical Platform Lift: Available up to 14 ft/4267 mm, these can be installed indoors or outdoors and are code-compliant. Includes automatic self-lowering folding ramp, non-skid platform, ramp surfaces, weather-resistant unit coating and controls, and continuous pressure rocker switch control.
Commercial VPL: Suitable for indoors or outdoors, these commercial vertical platform lifts are driven by an ACME screw-driven DC motor with continuous charge battery operation for access even during power outages. Bruno's commercial vertical platform lift (VPL-3300B) series are designed in accordance with ASME A18.1, section 2, and can be used in some applications for ANSI A117.1 National Accessibility Guidelines.
How does it contribute to the safety of making a lift/transfer?
Bruno stairlifts can help people with limited mobility easily and safety get up and down steps. An optional overrun or park position on curved stairlifts moves the unit away from the top of the stairlift to facilitate a smoother transfer. Likewise, vertical platform lifts, known as wheelchair lifts, provide individuals in scooters, wheelchairs, or power chairs access to entrances or exits where stairs may be a barrier.
What sets your system apart in the marketplace?
All Bruno stairlifts and vertical platform lifts are engineered, manufactured, and assembled in the United States. Family-owned Bruno is ISO 9001 certified and committed to high quality standards. Bruno products are sold, installed, and serviced through a network of local, factory-certified dealers.
R82: Lori Spencer, Marketing Manager
Describe your product technology, and its features and benefits.
Lightweight alloy is used to build the Molift Mover 180, which makes the device easy to maneuver. Likewise, it is engineered to have a large lifting interval of 10.6 inches to 64.2 inches, which allows lifting from high surfaces as well as lifting from the floor. The Molift Mover 180 has the option of 2- or 4-point suspension. It's also built to provide good ergonomics with a push bar that provides multiple and flexible grip possibilities. It is also equipped with an NiMH-battery made to be environmentally friendly.
The Molift rail system is available as a transverse system mounted in a ceiling or wall, as a single rail, or a single rail with curve. It is ISO 10535 approved and can be integrated in or under a false ceiling, on a wall, floor, or with upright supports. It has a safe working load of 350 to 660 pounds.
How does it contribute to the safety of making a lift/transfer?
The Molift Mover 180 weighs only 70.5 pounds, so it is very easy to maneuver. It also has a push bar designed to provide an excellent natural grip, creating good ergonomics and many grip possibilities. The Molift Mover 300 provides a lifting capacity of 660 pounds, which adds a layer of safety for working with bariatric patients. The Molift Rail System can enable lifting regardless of where furniture and a patient are located in a room, which means the assistance is available where it's needed, making for a safer lift or transfer.
What sets your system apart in the marketplace?
Both solutions, the mobile lifter and the ceiling-mounted lift, are made to be cost-effective. The ceiling-mounted system is built to be simple to install and simple to use, and the mobile lifter provides utility as a compact device that is easy to handle.
EZ-Access: Dale Nash, Product Development and Strategy Manager
Describe your product technology, and its features and benefits.
The EZ-Access Passport Vertical Platform Lift (VPL) is an extremely light residential platform lift that weights less than 400 pounds. Manufactured of aluminum, it is weather and corrosion resistant. The VPL is fully DC powered and no special wiring is required, which makes the unit extremely efficient and sturdy with a 750-pound weight capacity. Also, the Plug-N-Play wiring technology makes the Passport "low maintenance" and easy to service when required. The control box features continuous, large low-pressure mushroom head control switches (including emergency stop) which are easy to use, regardless of motor skills. Additionally, 52-inch and 72-inch lifting heights are available with straight or turn platforms.
How does it contribute to the safety of making a lift/transfer?
The product is designed to be user-friendly, non-intimidating, and easily understood. The main component is the control box, which can be positioned and set to the ideal location for the user. For any interruption in service, the control box has a self-diagnostic feature to lead you to the issue immediately. The unit also features an undercarriage safety pan with an obstruction detector (takes less than 15 pounds of pressure to stop the lift). Additionally, a self-actuating 24-inch entry ramp, with manual lowering capability (hand crank included), is standard. The tower also features upper- and lower-limit switches with manual triggers. Waterproof switches designed not to corrode are used throughout the product.
What sets your system apart in the marketplace?
The Passport VPL is designed to lower installation and service costs, while offering an expanded range of features that come standard. For example, the platform tower and gate are both prewired with automotive-style connectors that are waterproof. The multipositional control box features keyed operation and high-visibility LED diagnostic indicator lights for easy troubleshooting and reduced service calls.
Also, the Final drive features a 1-inch diameter hi-lead drive screw with bronze nut and bronze safety nut for high energy efficiency, less drain on batteries, and less wear and tear on the motor. It also offers a quiet, smooth ride. The lead screw is lubricated with arctic-rated grease, making it ideal for ambient temperature ranges.
SureHands Lift & Care Systems: Thomas Herceg, President, SureHands Lift & Care Systems
Describe your product technology, and its features and benefits.
Lifting systems, body support systems, and frictionless slides for manual movements are among the primary technologies we offer that have utility for rehab professionals and home users. Motorized, ceiling-mounted track systems can be custom designed so they leave floor space free. They can be used with a SureHands body support or sling, have several motor and hand control options available, and have a lateral motor that makes independent use possible. For private users, a modification to the home can allow for a continuous track system. The company's selection of mobile lifts features those with adjustable bases for easy positioning and extended vertical lifting range for lifting from the floor to a high bed. They also have an integrated spreaderbar that can be used with a sling.
The SureHands body support leaves the back and seat entirely free. It has applications as a bathing aid, stander, walker, and rehabilitation aid. Of course, it is also useful for transfers from bed to bath, bed to wheelchair, wheelchair to toilet, etc.
How does it contribute to the safety of making a lift/transfer?
Safe patient handling from one place to another will protect the user/patient as well as their caregiver. A SureHands lift system combined with the body support, universal sling, hygiene sling, or any of the company's variety of slings can help reduce attendant injury when providing patient care.
What sets your system apart in the marketplace?
Our customers, which include PT directors at large facilities as well as users themselves, have given us high marks for service, safety, and the reliability of our equipment. What sets us apart as a company is probably the same thing that sets apart our equipment, which is using a personal approach to determine the best lift/transfer solution for each client's needs. This includes analysis and guidance as well as professional installations and, very importantly, training users and caregivers to properly use the equipment.