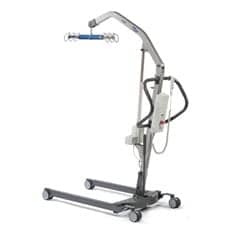 A power lift engineered to handle and ease most common transfer situations is available through Invacare Homecare. The I-Lift 450 Power Lift offers a 450-pound weight capacity and is designed to accommodate patients from a bed, stretcher, a wheelchair, a commode, and the floor.
The product, Invacare says, provides users increased maneuverability, intuitive ease of use, and enhanced safety features. The product also features low friction casters and dual precision bearings. Its ergonomic dual-angle push bar is symmetrical and intended to accommodate a range of caregivers' heights, allowing access from either side.
The I-Lift 450 also includes a swivel bar redesigned with double-loop aluminum safety clips, a polyurethane-wrapped protective cover, and 360-degree rotation to optimize safety and flexibility during positioning. The product includes two 24V batteries and a remote changing station to allow one battery to be changed while the other is in use.
For more information, click here
[Source: Invacare Homecare]