by Kelly Whitehead, MOT, OTR/L, and Kendra Orcutt, OTR, SCEM, CAPS Transitioning from a rehabilitation hospital to the home can be overwhelming. If the child is coming home with mobility devices, long-term health conditions, or other medical needs, home modifications may be necessary. Simple changes or equipment may temporarily fix some issues with accessibility, but can severely limit an individual's overall participation in meaningful tasks at home. For a child needing long-term solutions, home modifications provide an opportunity for the child to feel secure, safe, and more independent in their day-to-day tasks. Depending on the child's physical abilities and functionality, home modifications are sometimes essential to adapt living spaces to promote greater autonomy and improve overall safety. Making changes in the home adapts the environment to fit the child's needs, producing a better quality of life for the child and the family. The home modification process includes evaluating the situation, identifying solutions, implementing modifications, and evaluating outcomes. A successful remodel allows a child to continue to engage in their environment and increase independence, promote health, and encourage participation in daily routines.
Assessing the Situation
Telling a family that their child has been diagnosed with a disability or health care need is difficult, and the discussion of changing their home can be overwhelming. Working with a team of builders, therapists, and contractors that have extensive knowledge of a child's medical and discharge needs can ensure a smooth transition. Pediatric rehabilitation therapists should begin the discussion of discharge right away. A home modification can take anywhere from 2 weeks to 4 months, depending on the changes needed to make the home safe, accessible, and comfortable. Although the goal is to minimalize the amount of remodeling, the current and future condition of the child plays a role. Scheduling a home evaluation early in the process allows time to create customized changes for a long-term solution, especially in cases where a child has experienced a significant change from previous level of function. Customized environments provide ample opportunity to improve independence and quality of life. One important question to discuss with a family is financial resources. Although money can be a touchy subject, it is vital information to have in evaluating available options. If the family does not have sufficient funds for remodeling, other options can be discussed, including financing, local grants, and nonprofit organizations that assist local communities. Involving the family in the home modification process provides them an opportunity to grieve, accept, and adapt to changes. Choosing the alterations they want to make to their home physically is often empowering, allowing parents to make adjustments to their home when they are unable to change their child's situation.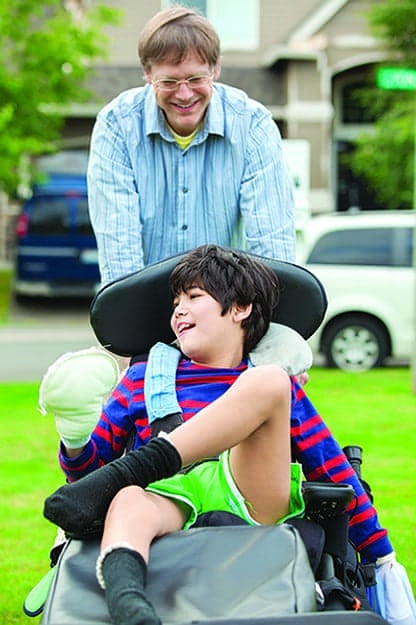 Modifications
One of the purposes of rehabilitative therapy is to promote a return to meaningful activities because doing so encourages healing. Changing and maximizing the space within a home to be more accessible is more convenient, dignifying, and therapeutic to the child. Bathroom Modifications. One of the biggest determinants regarding whether a child can go home is the bathroom. Most people can find a way to modify a bedroom, but when it comes to bathing and toileting, the child needs greater autonomy, functionality, and accessibility. To maximize space, make a zero threshold shower floor in front of the toilet, doubling the use of the floor space. It allows easy access to the shower and functions as the turning space for toileting. Showers should include a handheld showerhead for easy ability to rinse backs, grab bars that are sturdy, and water control knobs to determine comfortable water temperatures. For toileting, the patient can use a shower commode chair, allowing the chair to go both in the shower and over the toilet, making transferring and navigation safer and more convenient for both the child and their caregiver. Another option is a bidet washlet seat that can clean the perineal area daily, maintaining the child's skin integrity and overall hygiene. Bathroom counters should be at a height that allows a child in a wheelchair to roll up to the sink without bumping legs on cabinets or burning legs on hot pipes. Open bathrooms have a lot of air movement, so installing a timer heat lamp can provide a more comfortable space. Other considerations for bathroom modifications include wall-mounted sinks and tip-down mirrors. Stair Lifts. Depending on space and the child's strength, stair lifts can help with accessing multiple floors. Stair lifts are available for indoor and outdoor use in configurations that accommodate straight staircases as well as curved rail designs. Some models can be customized with power swivel seats and power folding footrests. Stair lifts require a comparatively large amount of space and may exceed the budgets of some families. Substantial energy expenditure during transfers may also be required. In situations where a stair lift is an option, it is important to consider whether a child who has the strength to use stairs may forego them and become dependent on the lift. Vertical Lifts. Another option that provides full access to a home and yard are vertical lifts, which do not require transferring out of the power chair, wheelchair, or other equipment. Vertical lifts take up little space and can get the child to the desired location quickly. These lifts are good if there is limited space in a home, or if there is an area with many stairs. Ceiling Lifts. Ceiling lifts provide an easy, safe, and comfortable way to lift and transfer a child in the home. Depending on the space and layout of the room, one option is to use 5 to 6 feet of track to get the child from one surface to another, such as from a bed to a power chair. This option takes up less space, is cheaper, and doesn't require taking out door jams or headers. Tracking a child through the room would also be more difficult if the child requires equipment, such as a ventilator. Portable Lifts. Portable lifts are typically lightweight, portable, and easy to use, allowing parents to safely perform transfers, with heavy-duty support slings available to minimize energy expenditure from the family member helping. These lifts are a good option for families living in apartments where they cannot make modifications, or if the child has a short-term condition. Portable lifts, especially manual lifts, are typically covered by insurance. Aluminum Ramps. If a child is being discharged from the hospital quickly, aluminum ramps are a quick, easy temporary solution. These ramps are good for children that go home in a wheelchair for a few months but can weight-bear after that. Aluminum ramps, although relatively heavy, can be portable. Automatic Door Opening Systems. Opening, closing, and passing through doors can be a challenge for a child in a wheelchair or other mobility device. Automatic doors provide a smooth entry and exit, allowing children to use sensors, touch-type or remote controls to operate the door. Although these systems are ideal for children with long-term disabilities, they are costly and typically only offered in commercial-grade doors. Transfer Equipment. The type of transfer equipment is typically decided in the rehabilitation environment. The most ideal situation would be to use as little equipment as possible, but the safety of the patient and the caregiver comes first. Therapists look for options that increase the independence of the child, and also consider the child's size, the caregiver's capabilities, skin integrity, and overall patient function. These considerations determine if the child needs transfer equipment such as a transfer tub bench, slider bath system, or a roll-in shower chair. Other Modifications. Additional modifications may be needed to improve the child's quality of life and make the home accessible for their needs. These modifications include widening doorways, motion sensors for lights, touch-sensor faucets, and concrete ramps. With new technology, automation is becoming more affordable and universal. Automation allows a child to use Bluetooth to turn lights on and off, turn on the television, and control electrical appliances from their phone or tablet. This simplifies daily tasks and helps a child feel more in control of their environment.


Impact On the Family
Many families experience grief when a child is involved in an event or accident that changes the way he or she enjoys life. To help with this transition, make the conversation about home modification a discussion, rather than contractors deciding every aspect. The discussion should be a balance between what the professional team thinks is best for the safety and accessibility needs of the child and what the family wants. If the child is old enough, including them in the conversation can help with clarifying expectations and needs. The move from the hospital to home can be overwhelming. Training on equipment and the changes in the home helps the family feel comfortable and secure as they make this transition. The changes made to the home need to be sustainable for the child and the family, especially as the child grows.
Interdisciplinary Approach
The success of the remodel depends on people who understand what the family and child are looking for in terms of independence, equipment, medical needs, and functionality in addition to the family having their needs and concerns addressed. The more knowledgeable people on the project, the better the solution. The Children's Center Rehabilitation Hospital works with Home Mods by Therapists, an organization of therapists who recognize the need to involve therapy professionals in home modifications. Working with individuals that are specialized in their field makes for the best transition. A team of architects, contractors, and therapists can communicate the needs for a successful modification, but including other specialists can make for a more comfortable and functional home for the child. For example, calling a gaming specialist for input can provide a child who will be spending a lot of time in bed with activities other than passive television watching. If home modifications are needed in a patient's living space, it's important to call a builder or architect that has experience with medical equipment or understands the aspects and considerations of accessible living. Each child is unique and will require different solutions to modify the home to fit their needs. RM Kelly Whitehead, MOT, OTR/L, received her Master of Occupational Therapy degree from The University of Oklahoma Health Sciences Center in 2013. She has been employed as an occupational therapist at The Children's Center Rehabilitation Hospital working in the Pediatric Medical Rehabilitation Unit since 2015. Kendra Orcutt, OTR, SCEM, CAPS, received her Bachelor of Fine Arts degree from the University of Oklahoma in 1985, followed by her Master of Occupational Therapy from Texas Woman's University in 1992. She has also received the Certified Aging in Place Specialist in 2013 and the Specialty Certification in Environmental Modification in 2015. She has worked in therapy and rehabilitation for over 20 years, and started Home Mods by Therapists in 2012. For more information, contact [email protected].