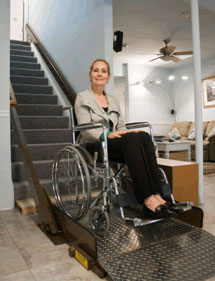 Mobility users looking for lift equipment that will better match their homes now have five new colors of inclined platform lifts available from Lewisbury, Pa-headquartered Butler Mobility Products.
Previously, the two standard colors were beige and brown. Butler reports the company's five new earth tone colors are standard colors available at no additional charge. These colors, the company notes, were created not only to blend well in the home but to enhance the beauty of the stairway. Butler believes the expanded colors will help homeowners find a paint color choice for any home color scheme or individual décor.
The new selection of standard colors includes:
Autumn Brown (a deep rich dark brown)
Weathered Chestnut ­ (a medium brown)
Sierra Foothills ­ (creamy brown with muted gray-green tint)
Manor Stone Gray ­ (gray with brown undertones)
Coastal Beige ­ (deep rich beige)
Color choices can be found on Butler's web site at butlermobility.com.
[Source: Butler Mobility]