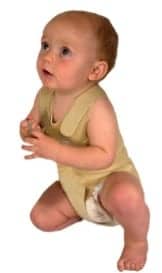 A new, foam-lined wearable therapy system intended to serve as an early intervention modality for infants with disabilities is available through TheraTogs, Telluride, Colo. With a design that reflects the standard "onesie" clothing, the ULTRA Wunzi Infant System is comprised of a proprietary material with an inner foam layer, intended to grip the skin and underlying soft tissues.
The company notes that the product also features a Velcro-sensitive outer layer to which clinicians can attach elastic strapping as the "external muscle" of the system. The product is engineered to assist in improving trunk alignment and stabilizing the core during critical growth months.
According to a recent news release, the ULTRA Wunzi Infant System is indicated for use with diplegic or hemiplegic cerebral palsy, hypotonia, torticollis, athetosis, cerebellar ataxia, BPI, and other developmental delay issues.
For more information, visit www.theratogs.com.
[Source: TheraTogs]